LIVING IN TAIWAN
Michael A. Turton

Taking trash to a recycler. Thousands of people pick up recyclables off the street or collect them from local factories, and make a little money taking them to recycling companies.
Cars, scooters, bicycles and pedestrians mingle on a crowded suburban lane.
Introduction
Two major languages are in common use in Taiwan, Taiwanese and Chinese. Chinese is the official language and for years it was forbidden to speak Taiwanese in school, the legislature and other official settings, as well as on TV (outside of a couple of reserved time slots).
| | |
| --- | --- |
| Police officers adjudicate an accident on a side street. | The explosion of Taiwanese language since the end of martial law has revolutionized the language situation here. Now many mainlanders have learned Taiwanese and some businesses will not hire locals who cannot speak fluent Taiwanese. Taiwanese is common on the streets, especially outside of Taipei. The new education reforms have mandated the teaching of local languages in the schools as well. |
| | |
| --- | --- |
| Vegetable sellers waiting for customers in a morning market. | Further, new government language policies are encouraging the use of Hakka and other minority languages. The long-term result will probably be the balkanization of the island, but in the short-term now is a very exciting time linguistically and culturally on Taiwan. |
| | |
| --- | --- |
| Goods on a supermarket shelf. If you can't read Chinese, labels are a mystery. | Outside of northern Taiwan people largely speak Taiwanese with each other, not Mandarin. Central and southern Taiwan are hotbeds of Taiwanese nationalism, whereas the north is about one-third mainlander. You will probably learn Mandarin more rapidly in the north. |
| | |
| --- | --- |
| A fruit vendor chats with a customer on a Taipei street. | The major foreign languages are Japanese and English. Most everyone speaks three or four languages now, some combination of Taiwanese, Chinese, Japanese, English and Hakka. Spanish and French are probably the other significant languages, but they are far, far behind the others. |
| | |
| --- | --- |
| A large Seventh Day Adventist Church in Taichung. | If you speak a Western language besides English, you can probably make money tutoring in that as well. If you are a native speaker of an in-demand European language, and you have a masters degree, you might be able to obtain a university position teaching that language. |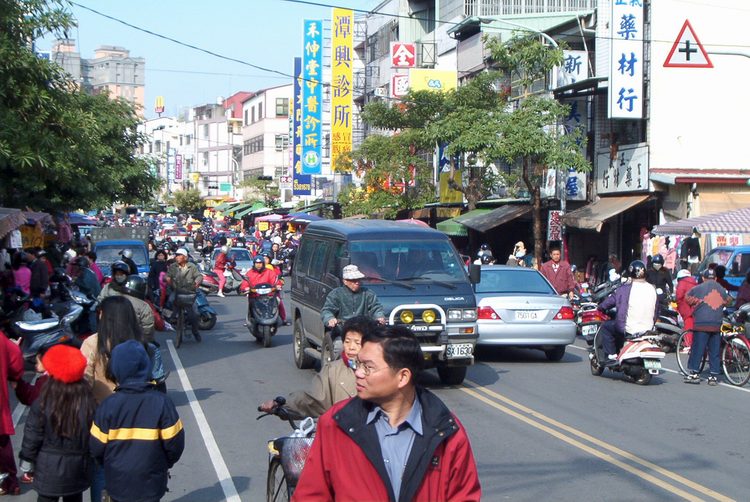 Shoppers overwhelm a traditional morning market.
Should I learn Chinese?
I used to recommend that all foreigners learn Chinese, but now I am not so sure. If you are here for the short-term, a little Chinese will be useful in getting around. But if you are here for the long term, there is some disagreement among long-termers on the utility of learning Chinese. Many people live here happily for years, even marry, without ever learning it.
Flooded fields and straight roads characterize much of the western plain south of Taichung.
| | |
| --- | --- |
| This is because there are two basic modes of interaction, one for outsiders and one for insiders. If you don't speak Chinese, people will place you in your proper role of foreigner and treat you with respect and deference. | A group of men prepares to move a temple god into its niche in local temple. |
| If you speak Chinese, however, you will often elicit the casual brusqueness with which most Chinese treat each other (and regard as normal). Westerners often experience this as rude. | Hikers make their way up a ridge on the east coast. |
| | |
| --- | --- |
| Another problem with speaking excellent Chinese is that you will be exposed to all sorts of interactions you might otherwise have avoided. If you have an accident and can't speak Chinese, nobody can accuse you of anything. You might be made to do extra work at your office if people know you can translate. If you can speak Chinese, you might be horrified to learn that the fishing trip your kind friend took you on was actually to a protected nature reserve. And so forth. | We who are about to die salute you. |
| | |
| --- | --- |
| However, there are numerous drawbacks to not knowing Chinese. For one thing, it is insulting to live somewhere without speaking a local language (Both foreigners and Taiwanese often express contempt for foreigners who live in Taiwan without speaking the language), and for another, those foreigners generally know very little about Taiwan. If you really want to participate in the life of the island, Chinese is more or less mandatory. | A vendor prepares candied fruits for sale in a night market. |
| | |
| --- | --- |
| Learning Chinese is endlessly useful in everyday life, for everything from deciphering food packaging labels to reading street signs. Many people find it extremely difficult to get around in Taiwan's cities without some Chinese, especially outside of Taipei where the signage is less likely to feature English. | Videos await fans in a video and music store. |
| | |
| --- | --- |
| Most importantly, Chinese is the ticket to any number of high-paying teaching and translation jobs. | Just imagine if you could speak his language! |
| Best of all, you can read Tang poetry in the original. | A street devoted to furniture stores in Taipei. |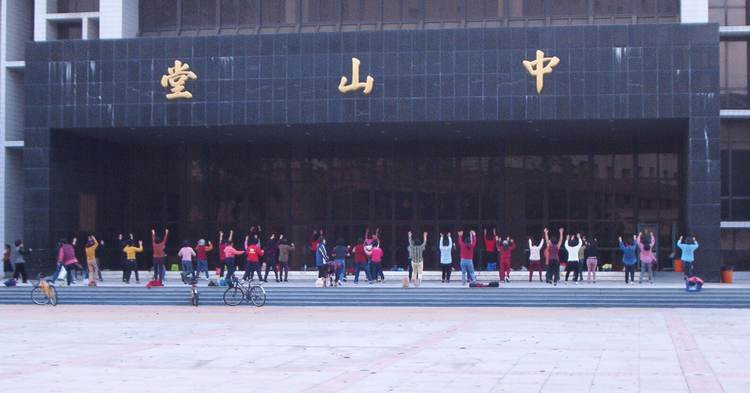 A small army of early risers exercises in front of a public auditorium in Taichung. Many Taiwanese, especially the old, are enthusiastic exercisers, although they are often indifferent to participating in organized sports.
A typical mom-n-pop supermarket in a small Taiwanese town. Like many of this vanishing breed, it is strategically located next to two schools and sells snacks and sweets.
Is Chinese easy to learn?
Chinese in some ways will be a relief. It has no tenses, conjugations and so forth, word meanings are relatively restricted (there are no words in Chinese like "run" in English with its scores of meanings) and the grammar is child's play. There are only a couple of hundred thousand Chinese words, unlike English with its million or three, and there is a dearth of synonyms.
| | |
| --- | --- |
| A camera guards an intersection in a small town outside of Taichung. Many of these cameras are for public security, not traffic control. | The tones will cause problems for the first few months. Most foreigners go through a difficult phase after they know some Chinese, in which they think they are speaking Chinese, but actually, because their tones are unclear, they are speaking gibberish which the locals literally cannot understand. Frustrating, but this phase will pass. Just bull through it and keep reminding yourself that it is your problem, and not the locals. |
| | |
| --- | --- |
| Primary school students ham it up for the camera. | You will know that your Chinese tones have arrived when you hear another foreigner speaking during this phase of her learning, and you discover that you can't understand a word they are saying. |
| | |
| --- | --- |
| What is this colorful place that calls itself "Little Wife," advertises that its service involves men and women, and is clean and healthy? It says it's a hair salon. Not many 24 hour hair salons.... | The hard part is the characters. I suggest you purchase a copy of McNaughton's Reading and Writing Chinese, and learn fifteen characters to twenty-five characters a day, writing them over and over, until you've memorized the book, then move on to more difficult books. |
| A concert on a college campus. | Only about three thousand characters need be committed to memory to read a newspaper. The real key to learning is commitment to the drudgery of memorizing all these characters. |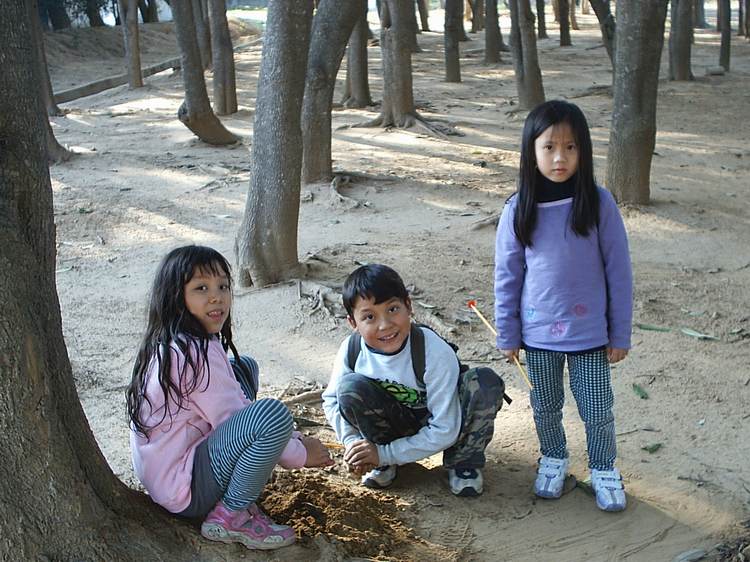 My kids at play with a cousin in the park area next to our house. My daughter is bilingual and reads, writes, and speaks both English and Mandarin. My son attends American school and is picking up Mandarin only slowly.
How do I go about learning Chinese?
How to learn it? You could sign up for classes, but that means you have to spend time and money during prime hours when you could be teaching and making money (also, the Mandarin they teach is really stilted). Not wise in my view, but then self-teaching is not for everybody.

The Mandarin Training Center at Shih Ta puts out a large number of excellent materials which you can use to teach yourself (many have).

Convenience store displays are a universal idiom.
If you aren't willing to speak and sound stupid, you will never get anywhere (many Taiwanese are unwilling to sound stupid and lose face, thus they have difficulty learning English).

Language exchanges are common and a good way to make friends and meet members of the opposite sex.

Bad weather overwhelms the suburbs of southern Taichung.
| | |
| --- | --- |
| Taiwanese is rather a more difficult case. The island sports a number of local accents and good self-teaching materials are hard to come by. But many foreigners learn it and find it quite easy. A boy/girlfriend will come in handy here as well. Locals really appreciate it when foreigners take the trouble to learn Taiwanese. | New construction eats up greenspace in Taiwan. The government has made no attempt to preserve public and park space in new construction. The result is urban environments that verge on unlivable. In the background one can get glimpses of the cool green mountains of central Taiwan. |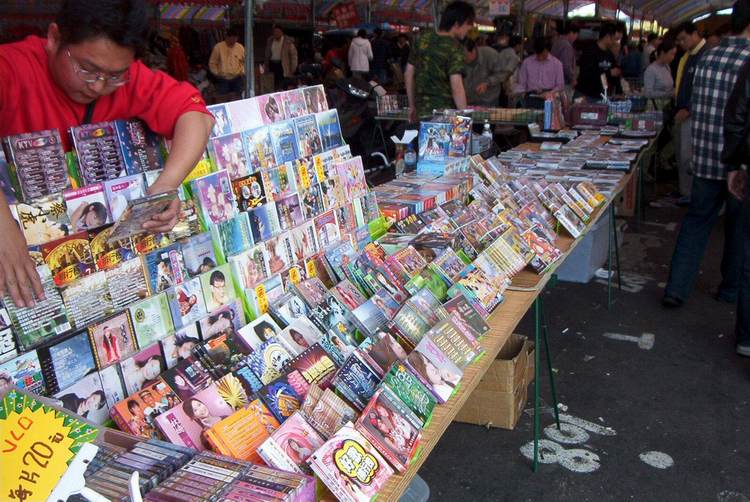 Video vendors in a covered junk market reshuffle their wares.
A taxi driver practices a common Taiwanese driving tactic: making an illegal left turn from the far-right hand lane through a red light. The result of such stupidity is Taiwan's astronomical accident rates.
Random Thoughts

A couple of things to be aware of. First, people's perception of you will change if you open your mouth and speak Chinese. Service is likely to be less gracious if you appear to be someone who knows something rather than a dumb, mute foreigner (Taiwanese treat foreigners much better than they treat each other).
| | |
| --- | --- |
| At 10:00, the last students head home from a neighborhood English/cram school in a small town. Schools like this offer classes in many subjects. | You may actually find it difficult to practice Chinese, since many will use you as an opportunity to practice English. Your experience of Taiwan will change radically if you speak Chinese and you may come to understand Taiwan and its culture in a way that will disappoint you. People may assume you know more than you actually do if you speak Chinese. All of these things will have to be weighed when communicating on Taiwan. |
| | |
| --- | --- |
| A computer service business in a small town. An hour on the computers here costs NT$20. | In many official circumstances I do not speak Chinese, but let my wife handle the affair, standing behind with a big dumb smile, the stupid foreigner who has to be helped (conversely, when my Taiwanese wife needs something, she often drags me along, because she gets better service if I, the foreigner, am present with my big dumb smile). |
| | |
| --- | --- |
| The interior of a pizza parlor. | Also it is important to understand that English is MUCH harder than Chinese. Its tense structure, grammar and vocabulary are more complex than Chinese. Much ordinary English language is highly usage-dependent and must simply be memorized (for example, we say "on Sunday" but "at 6:00."), a fact which drives second language learners insane. |
Construction is constant in Taiwan, where no place is so beautiful that it can't do with more concrete.
Its words have a riot of meanings and there are many more of them. Many things which must be specified in English can be omitted in Chinese. Of course, learning English is more difficult because the Taiwanese do not hear it on a 24 hour basis the way you hear Chinese.

Remember, complimenting people on their English is a good opener to warm relationships.
TEACHING ENGLISH IN TAIWAN