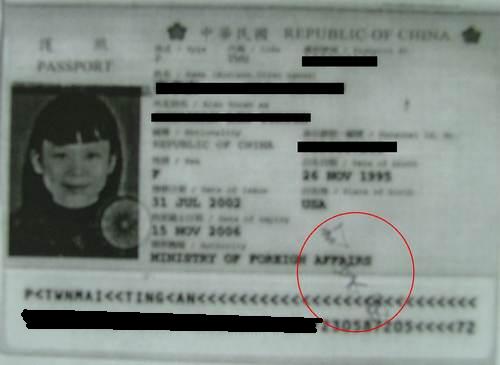 My wife has scrawled "ticket purchase" on this unimportant area of a copy of my daughter's passport so no one can use it to steal her identity.
When you hand people a copy of your passport, ARC, or other ID, write something like: "job application use only" on the copy of the passport, across some area of the passport copy itself (not on the blank paper next to it). Criminals frequently use copies of ID documents to steal identity, and this will spoil it so they can't use it. Additionally, schools (even universities) will put data and pictures of foreigners on their websites, even if the foreigners don't work there, just to attract students.
Get receipts for everything to prove that you have worked at the place, for both pay and taxes.


Most businesses will not report you to the tax office and get you kicked out of the country (that's generally considered out of bounds, as well as dangerous, since your employer is probably evading taxes) but you never know. I know of two cases in which a school reported teachers to the tax office for illegal teaching at their other jobs, then denied they had ever taught at the school, just to save paying their salaries.

Possible tax screw: you quit in June, only to get your tax return next year and find your employer has added the income of another employee to yours to reduce that employee's taxes. Instead of paying taxes on 500,000, you pay taxes on 750,000, although you only got 500,000 in income. Hence, be careful how you leave legal jobs; always leave nicely, because a bogus tax filing can cause you a world of pain. Besides, you might be back again....


Always check your pay, never take it without counting it in front of the people handing it to you (this may be considered insulting, but so be it). Check for those strange deductions.


Using a false name is a common tactic (though I have never done it).


Go easy on the personal information.


Never tell anyone where else you work, how much you get paid or any other personal information until you know that they are trustworthy (do not say "It's none of your business." Instead, either lie or be noncommittal "I work on the other side of Taipei," etc.) I am saddened to report that people will collect personal information on you and use it against you. Taiwanese regard all relations within institutions as zero-sum games in which if A rises, it must mean that B is falling. If you rise, some of your Taiwanese coworkers are almost certain to go after you.


Do not get involved in office politics, since your position will undoubtedly be unaffected regardless of who wins such internecine strife (office politics are the life of Taiwanese businesses; in my darker moments I often wonder if people here open businesses just so that they can have office politics).


Never work for an illegal school. A legal school will display the owner/manager's name and picture in an official document which must be hung in a prominent place. If you don't see it, don't work there. Illegal operations can vanish at any moment, leaving you at best, without pay, and at worse, expelled from Taiwan and forced to pay heavy fines.
Avoid showing your passport unless it is demanded at the interview. The less people know about you (at least at first), the better off you are. Additionally, Taiwanese may rip off your personal data and use it for tax or other purposes, even advertizing.


Do not work for a school which is constantly advertising for new teachers in the paper; it is probably a poor place to work.


Work at (at least) two different places. That way, if you get fired, or the manager absconds with the cash, or the place goes bankrupt, etc, you still have income during the time you need to find a new job and get paid. Additionally, you are less vulnerable to the demands of your superiors, since you are not so dependent on them.