A Morning Trip to the Fish Market of the Port of Taichung
Sunday, June 26, 2005, offered us the first clear day after weeks of rain. We seized the moment and went with our friends and neighbors Josh, Steve and Rhonda to the port of Taichung to visit the fish market. The fish market there is both a functioning market and a major tourist attraction in its own right. Be sure to arrive early to beat the crowds! We got there at 8:30 am as the vendors were setting up....

Return to Home Page
Return to Recreation in Taiwan page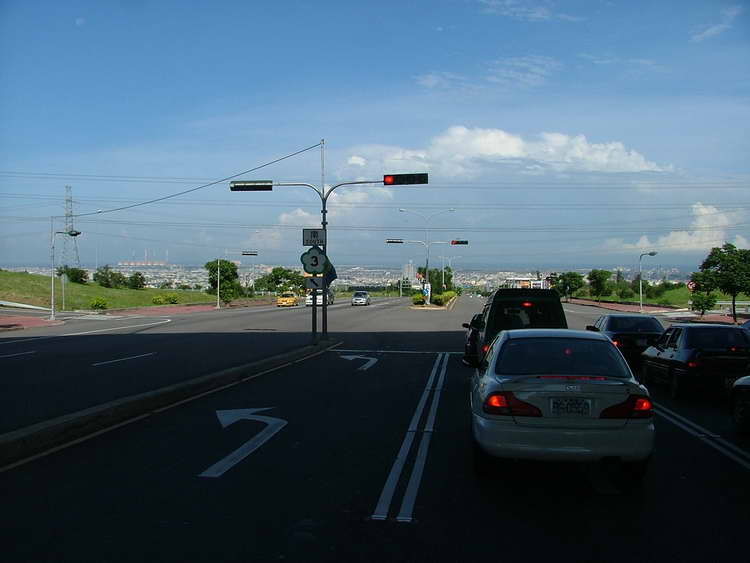 The rare clarity of the air made for spectacular views as we descended Tatu Mountain on our way to Taichung port.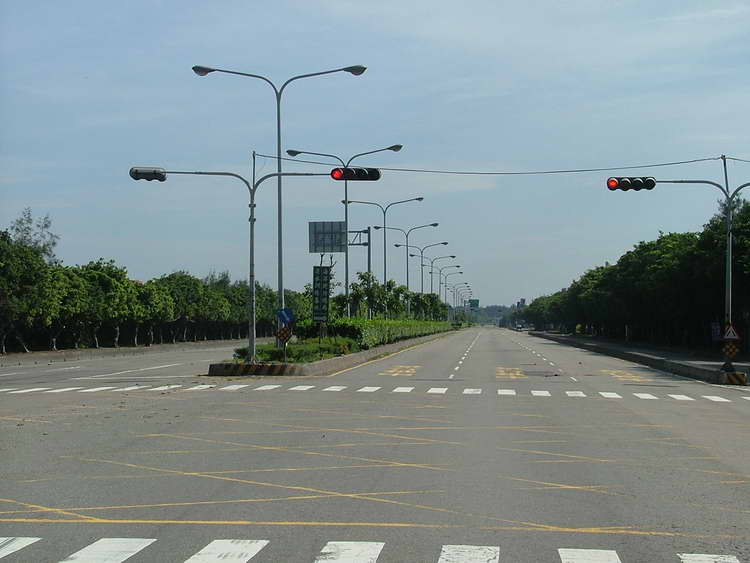 On a Sunday morning the wide roads of the port are almost completely empty.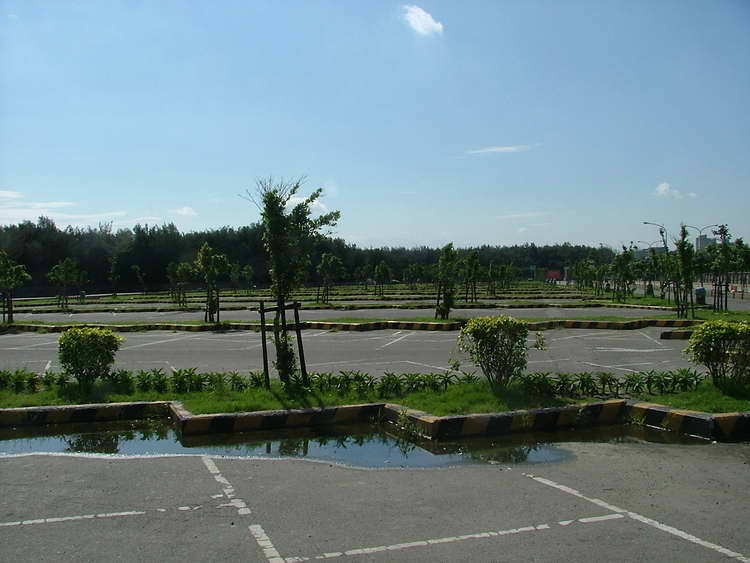 This lot would be full by 10 when we left.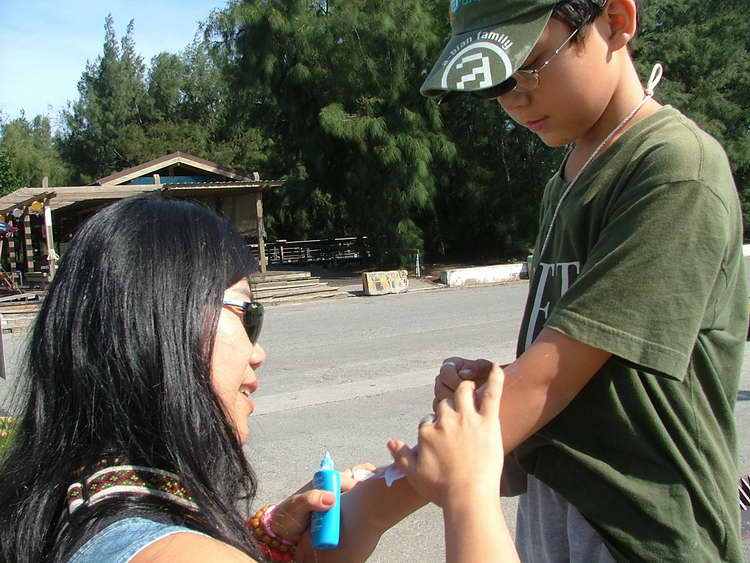 Here's a good habit to get into: SPF 48, and slather it on thick!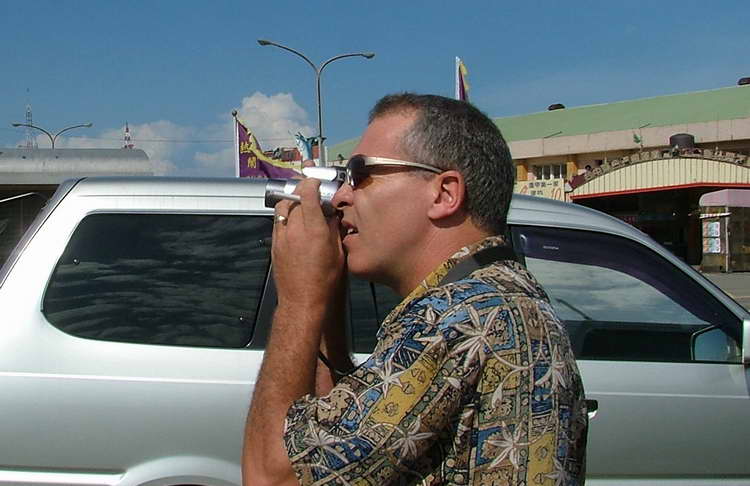 Steve emulates Michael's bad habit of photographing everything.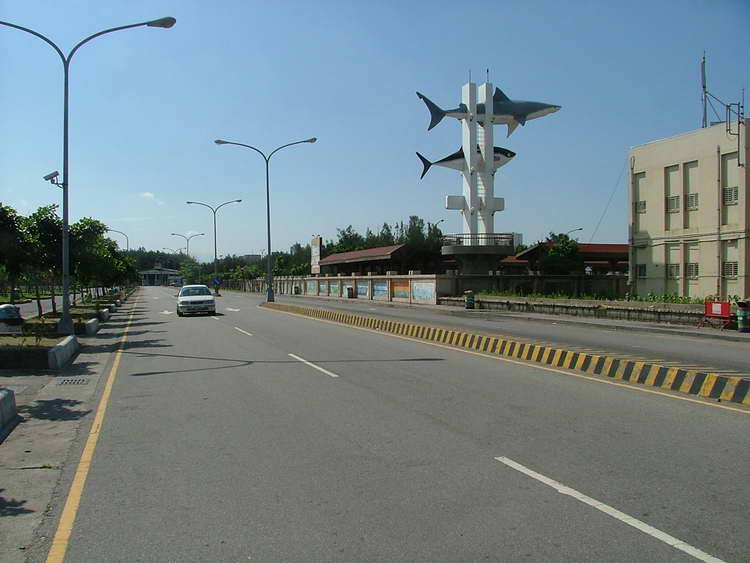 Looking back to the entrance. It's NT$50 to park a car here.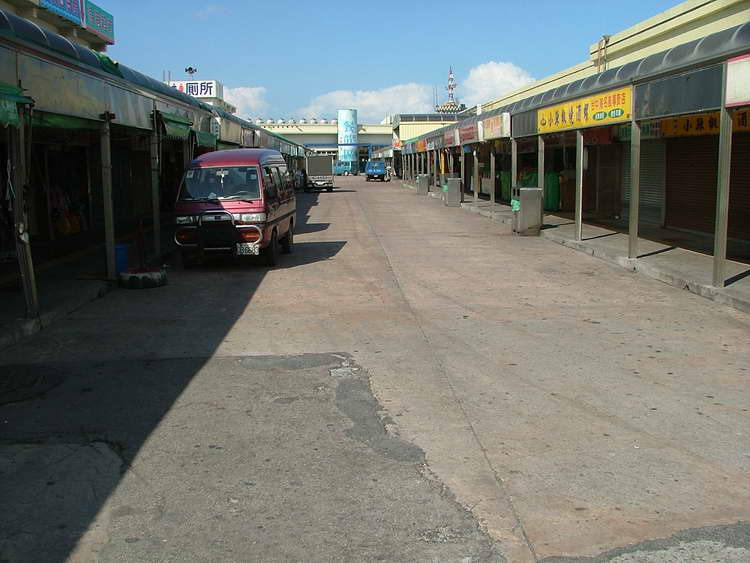 Here there be tourist traps....later in the day.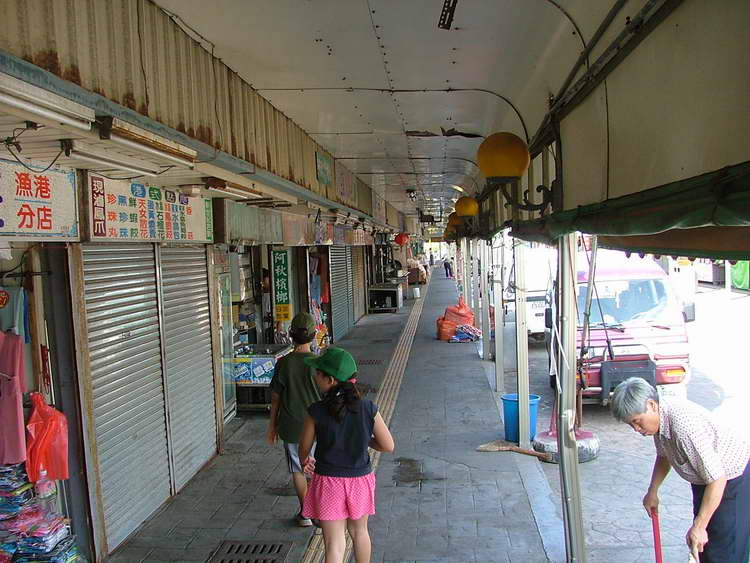 As vendors open their doors, Dan-dan and Zeb head for the fish.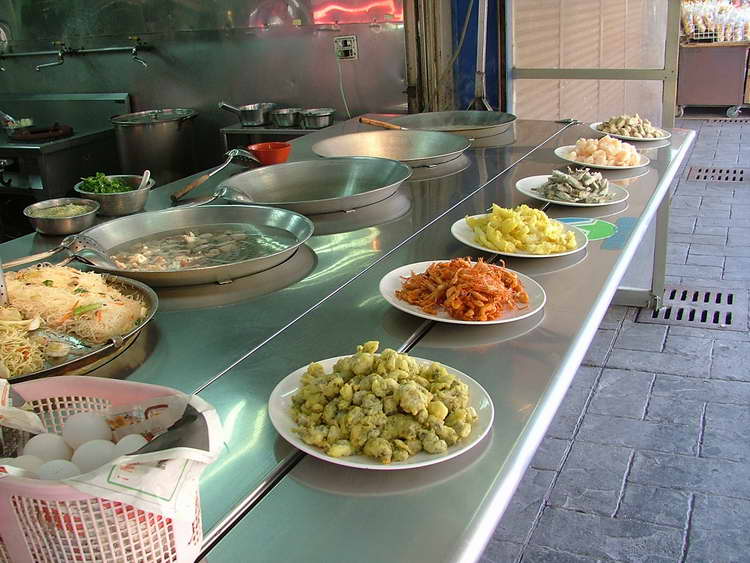 Fishing is universal, though the bait varies by species.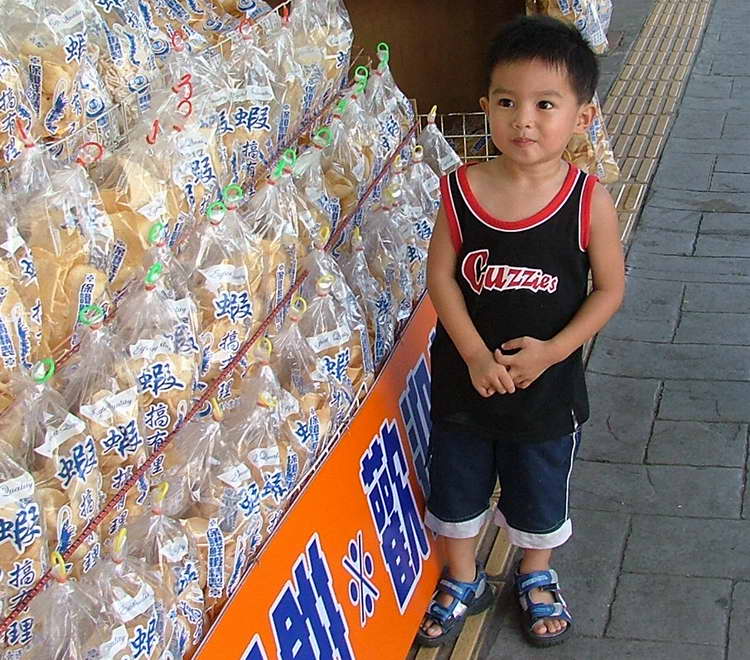 Josh looks over the goodies.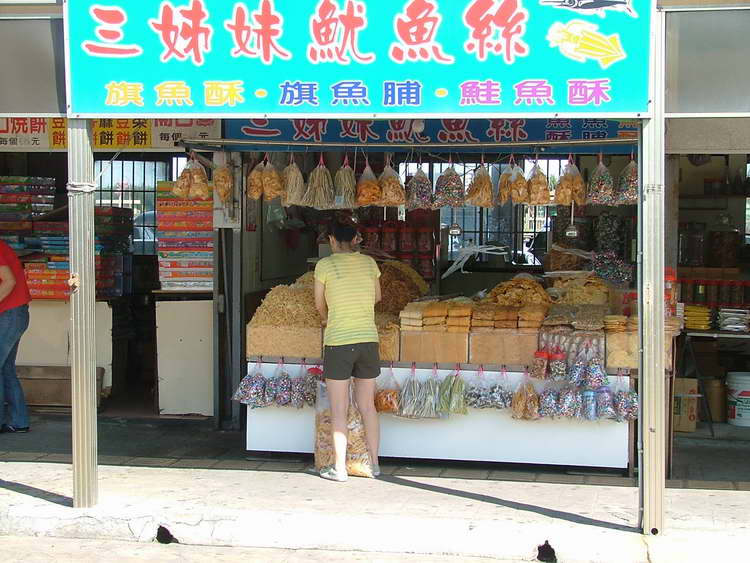 A vendor sets up.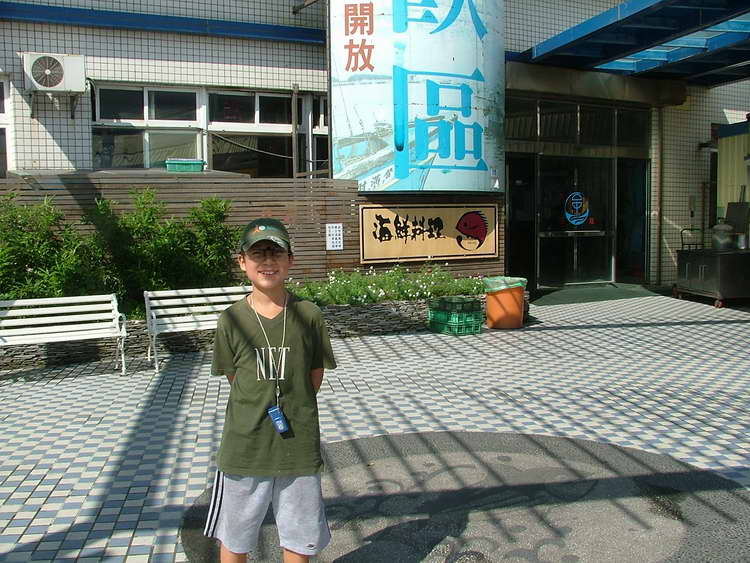 Zeb poses at the entrance to the food court.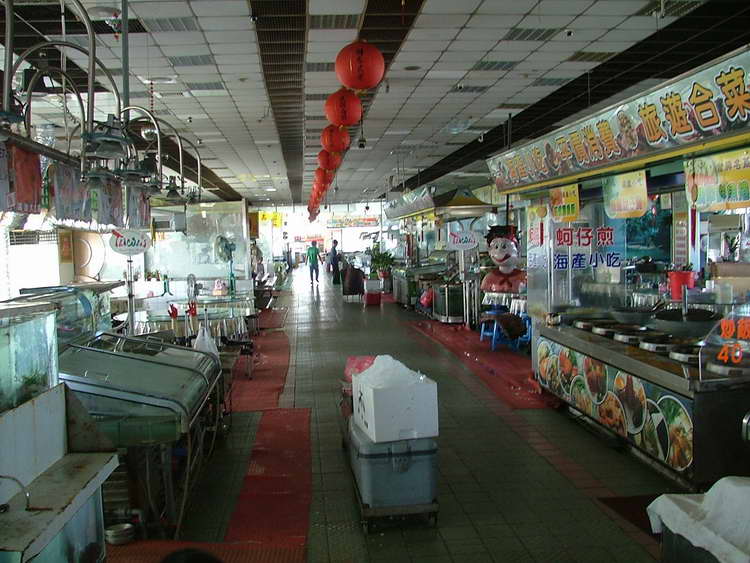 The various eateries were just beginning to set up.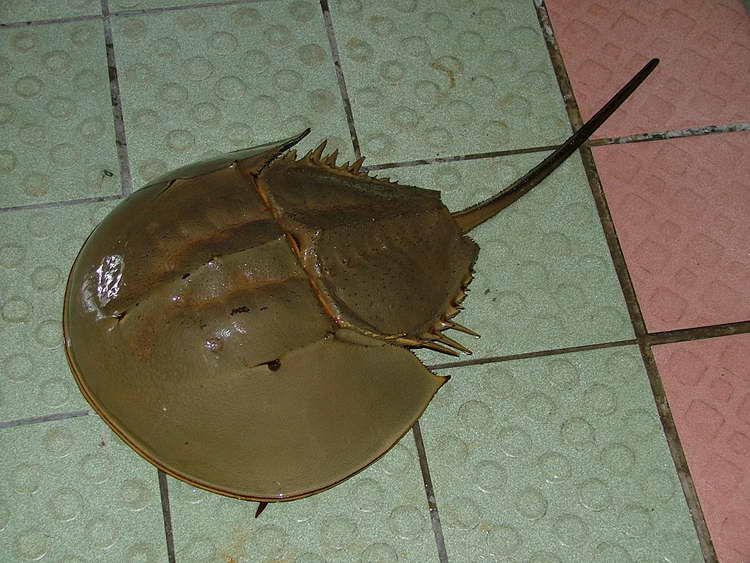 As we passed one of them, the owner was kind enough to put out a horseshoe crab for us to photograph. It was the first time I had ever seen one living and up close.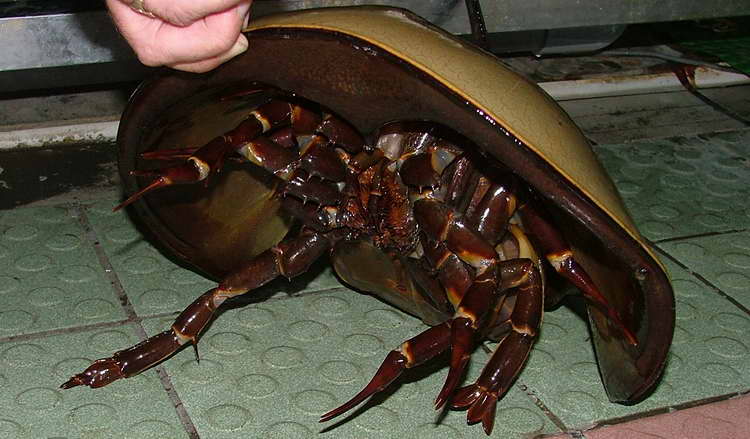 Steve lifted the hood so we could examine the motor as it protested furiously. A relic from an earlier age, it still retains a savage, prehistoric air.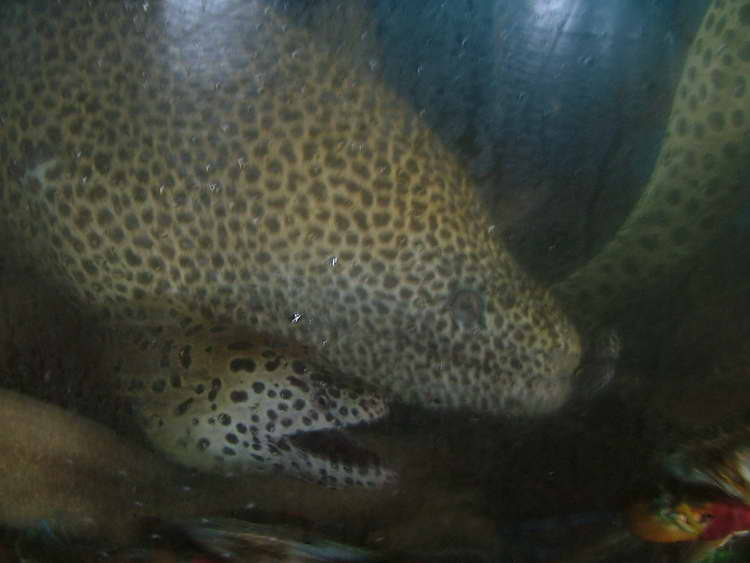 The tables turned for these Moray Eels.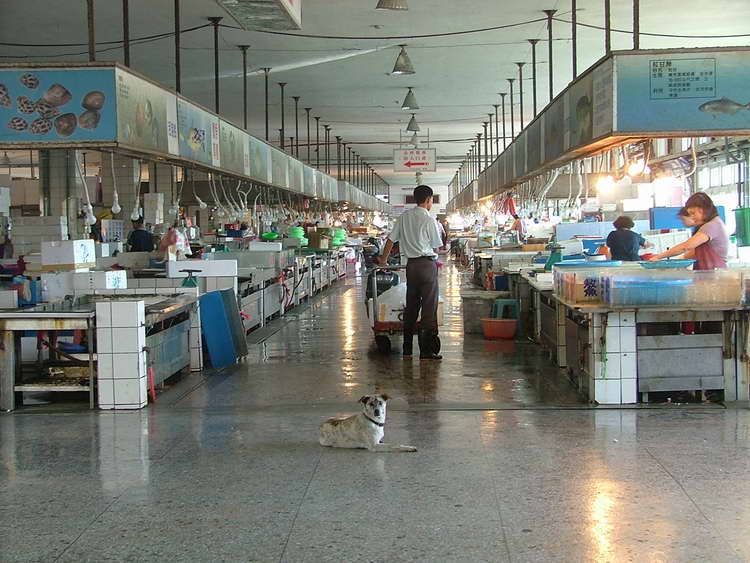 Entering the market proper, we were greeted by a dog.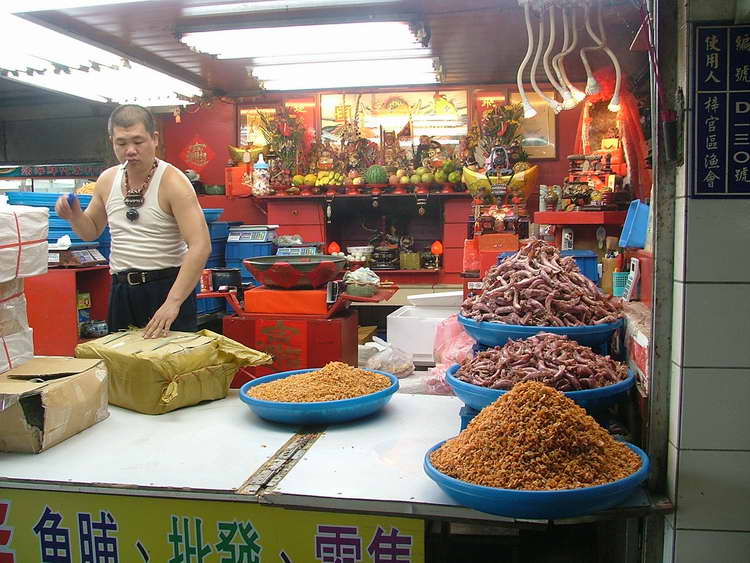 Setting out dried seafood.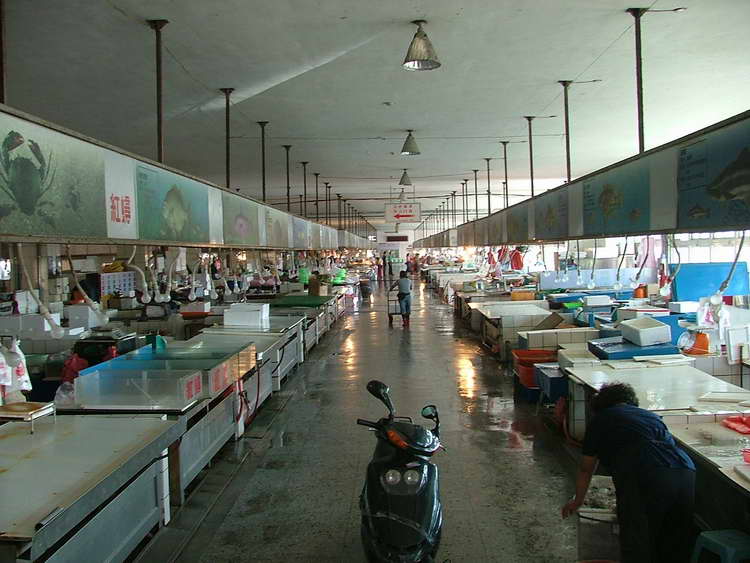 Since it was still early, most of the stalls were empty.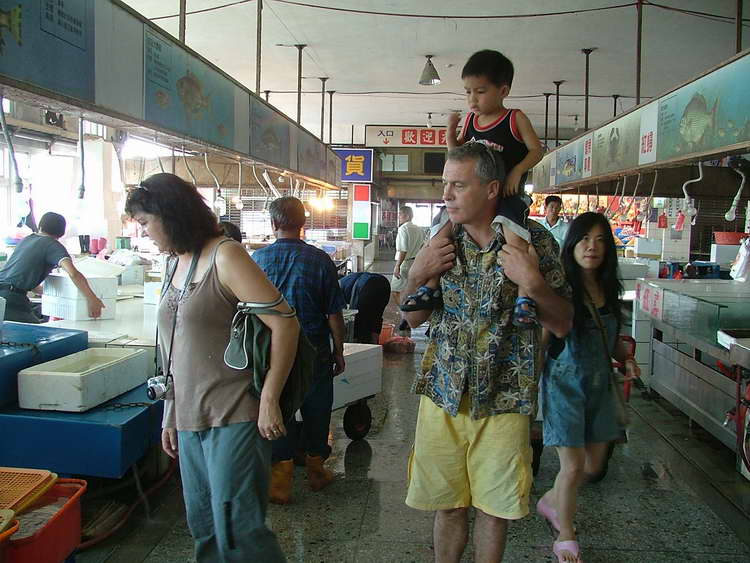 Everyone marveled at the incredible array of fish. In many ways it was better than the Aquarium: you could get a lot closer to the displays, and there was no entrance fee.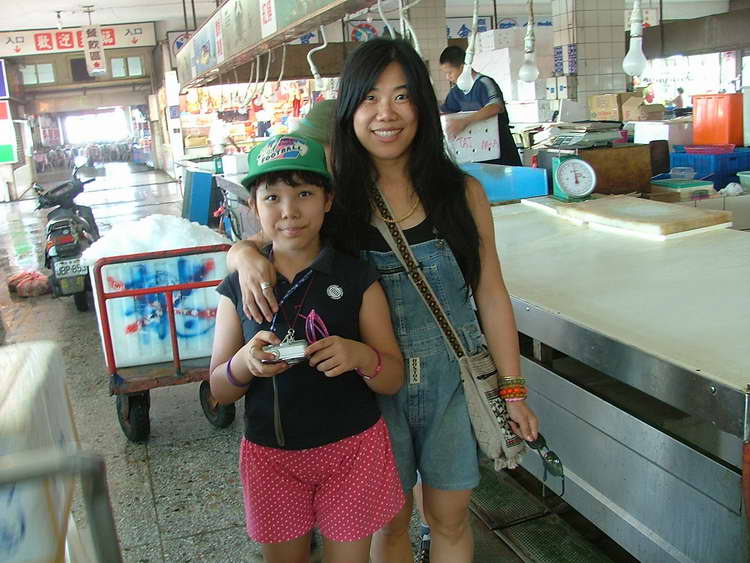 Mom and Dan-dan pose.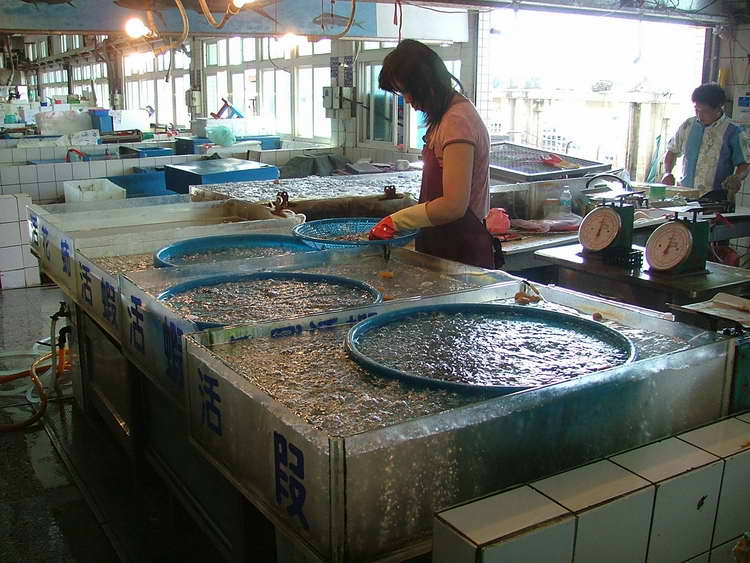 Sorting shrimp, scales at ready.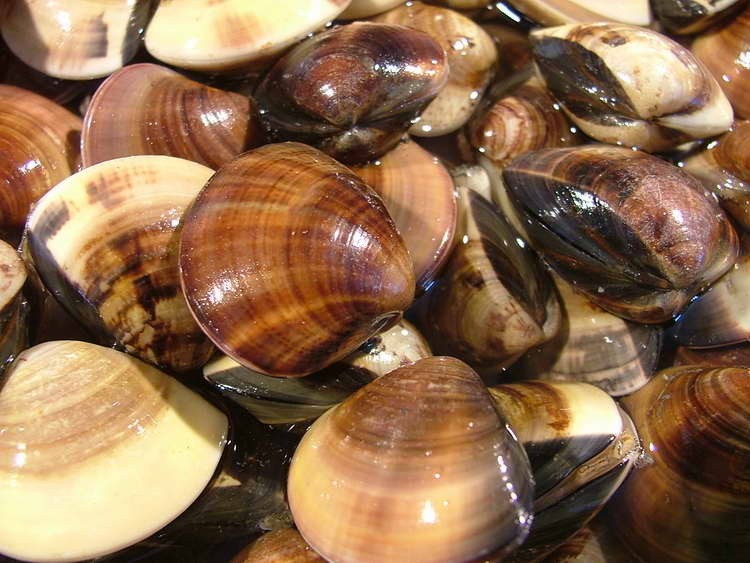 A favorite of my daughter's.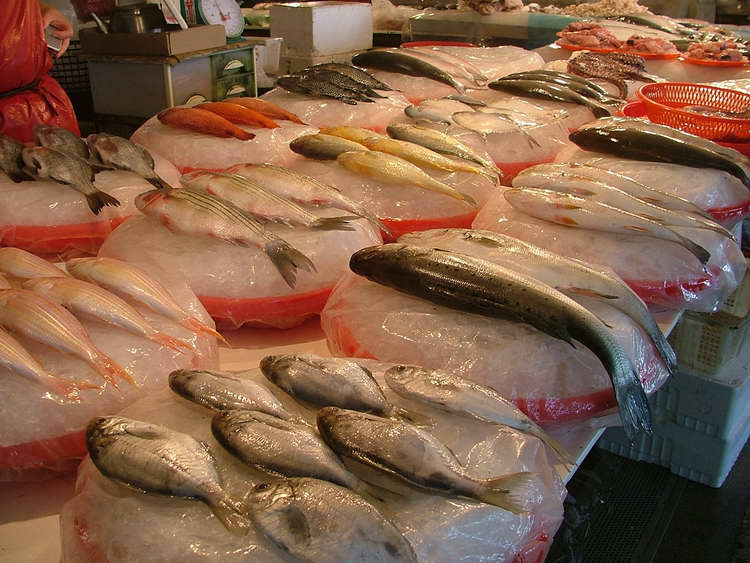 Laid across ice, the seafood is sold in lots, a fixed price for each basket.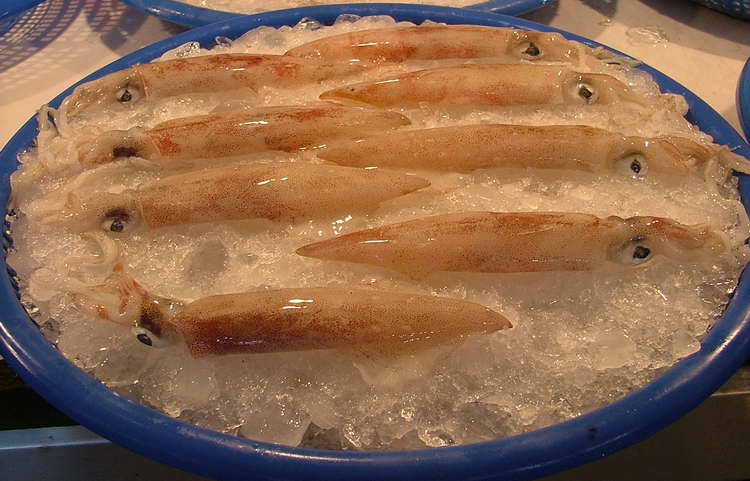 Buy it. You won't regret it.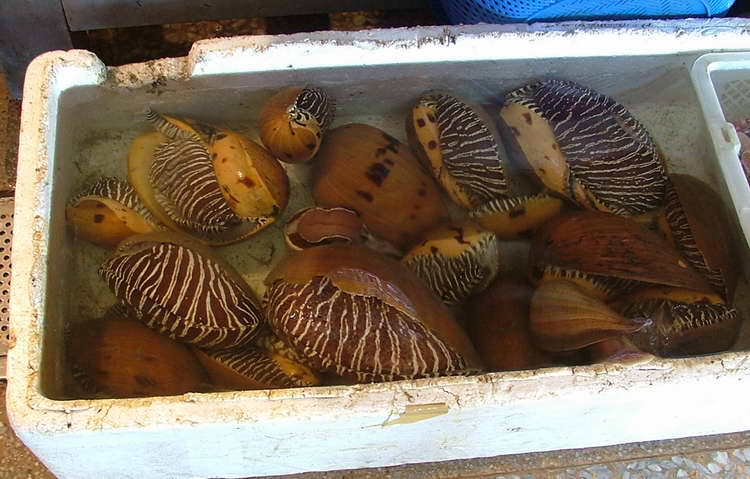 Abalone wait, unknowing...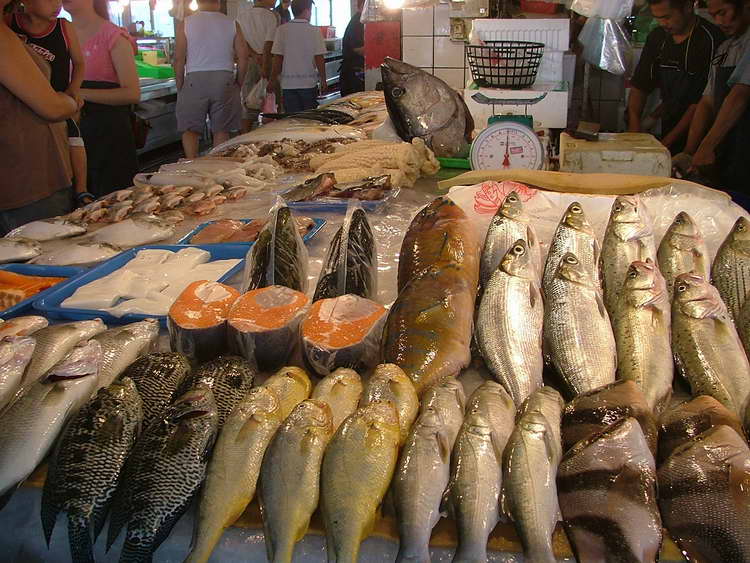 A fish head proudly overlooks goodies for sale on a corner.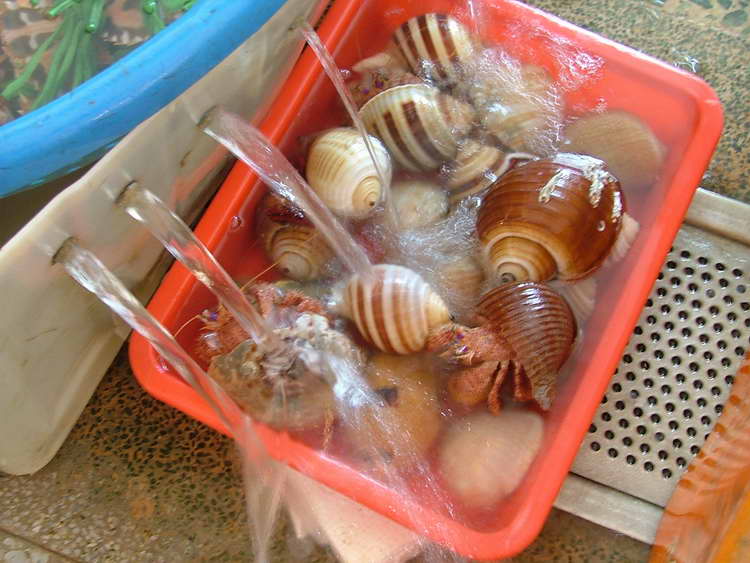 I didn't even know hermit crabs were edible.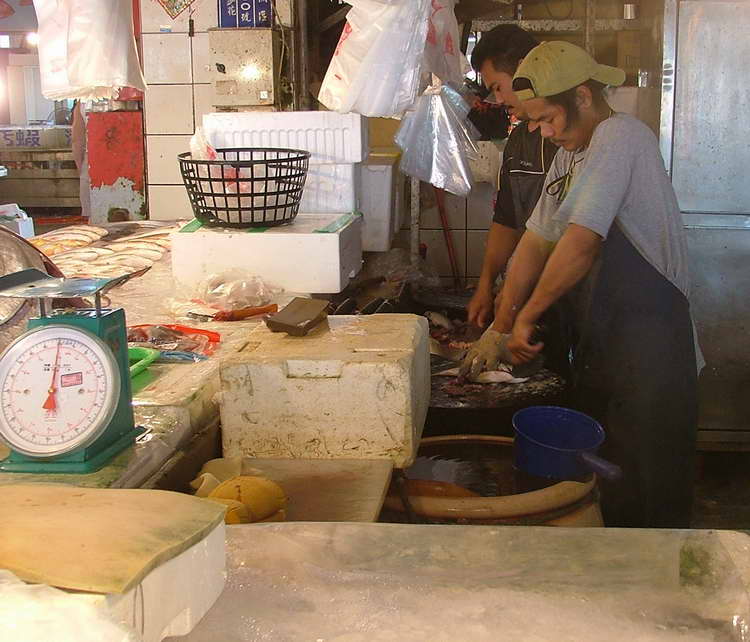 Preparing the fish.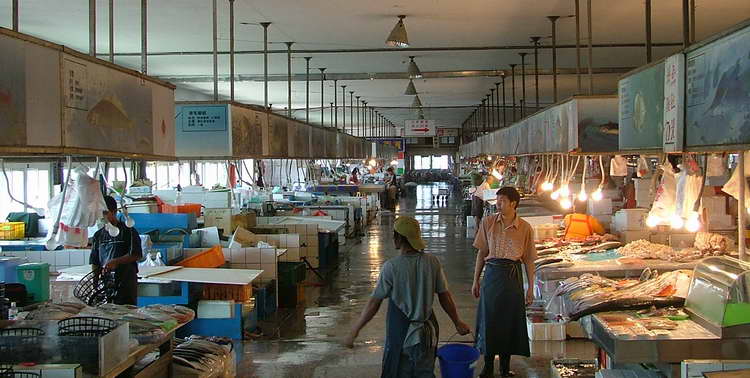 As more vendors arrive, the market starts to come alive.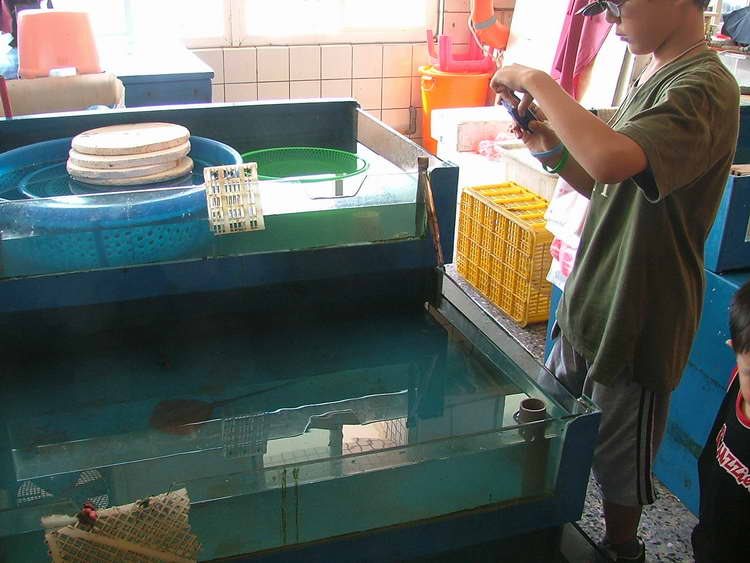 Zeb attempts to capture a ray.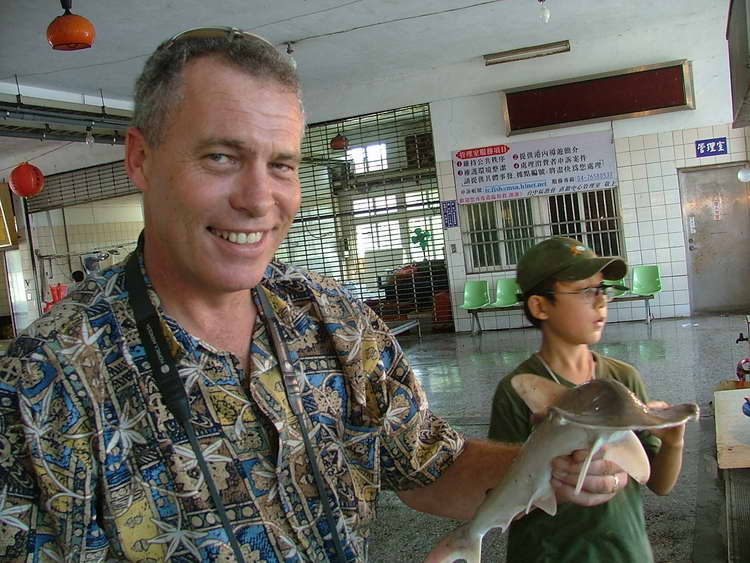 Steve poses with his friend, a hammerhead shark.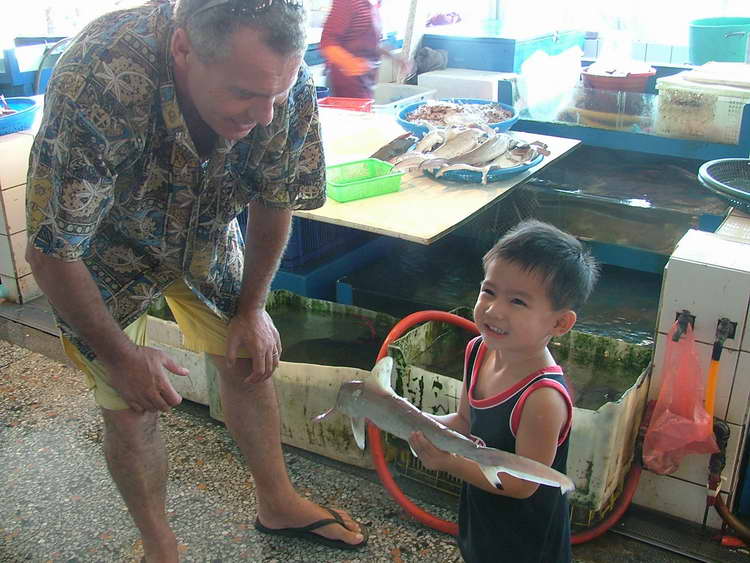 Josh loves his new shark.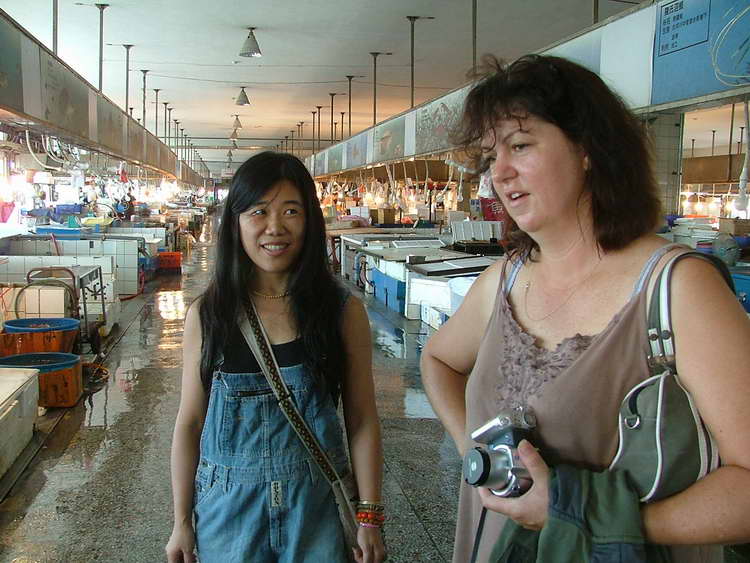 Juying and Rhonda discuss hammerheads they have killed.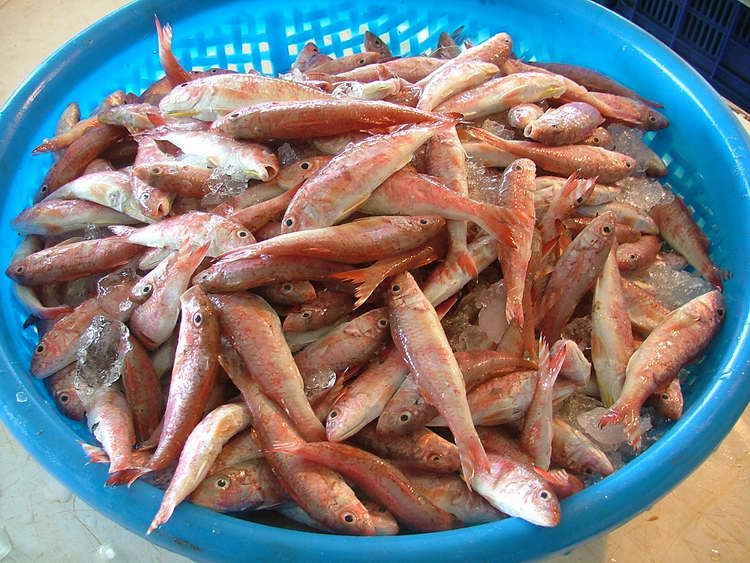 The fish market is full of colors.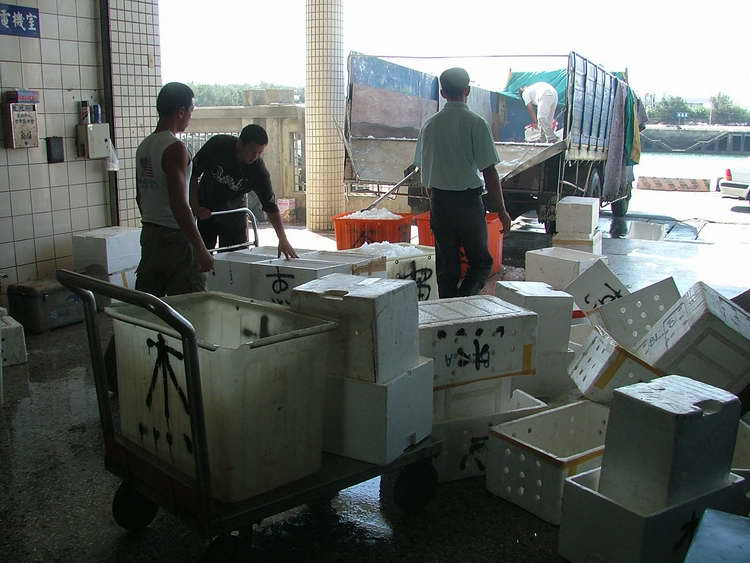 Caution: men at work.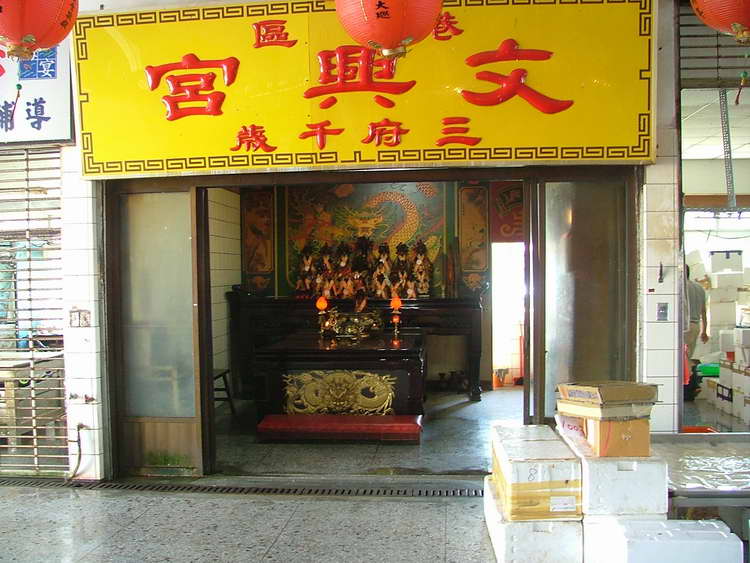 Since this store faces an aisle, feng shui dictates that a temple be placed here to counteract the bad luck.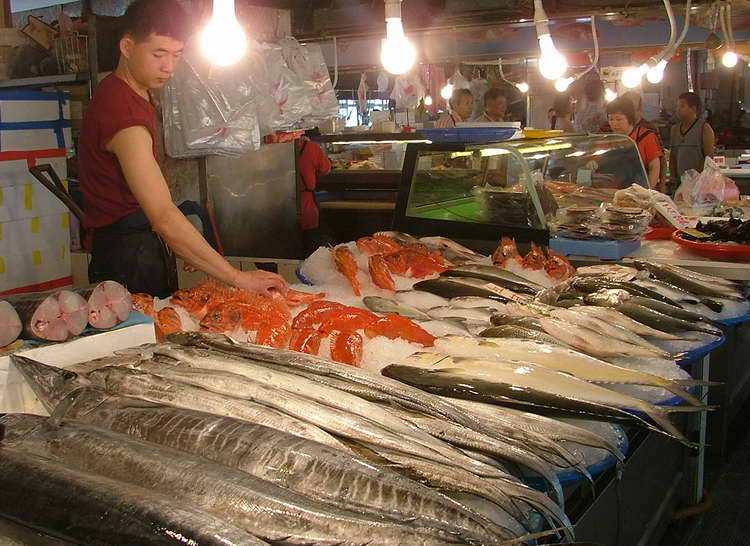 A fishmonger inspects his wares.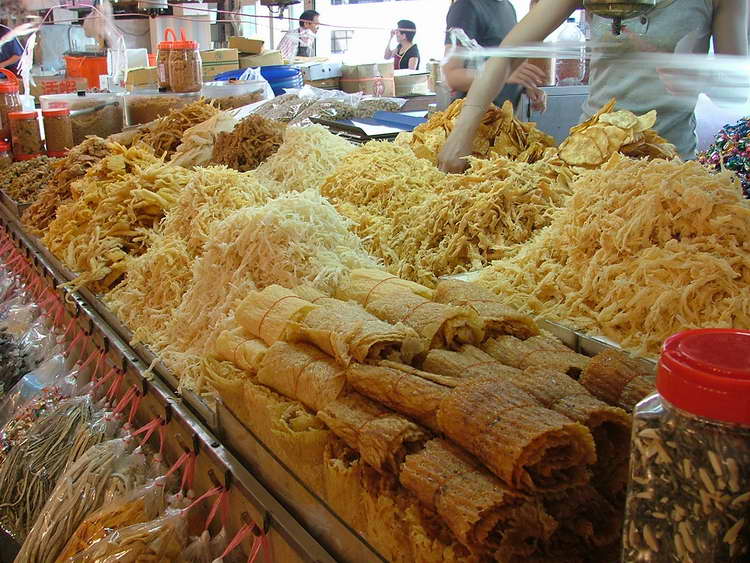 Dired seafood products. I suspect a lot of this stuff comes from China now, and therefore I do not trust it.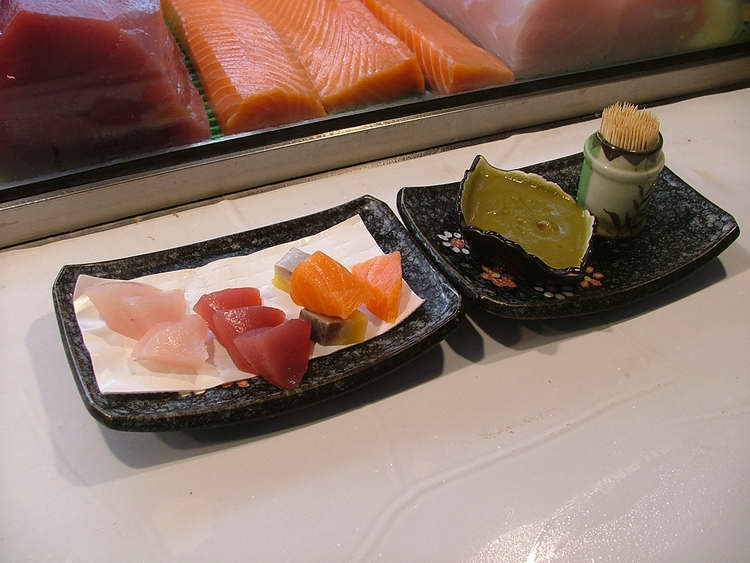 Sashimi for passers-by to taste.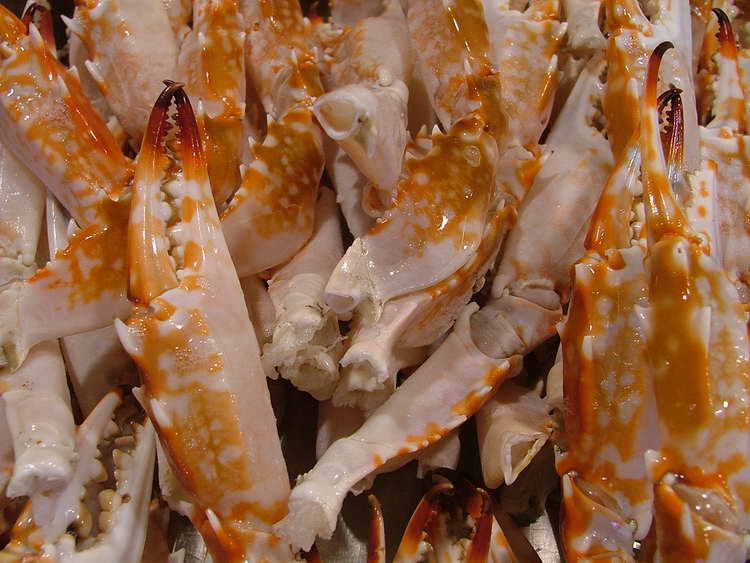 I've never understood the attraction. Sure, the meat's good, but it takes too much work to get.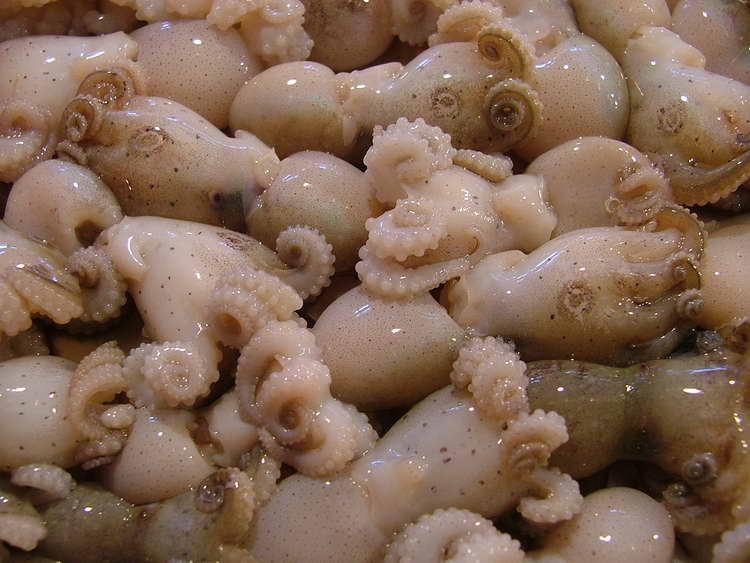 Don't they look delicious?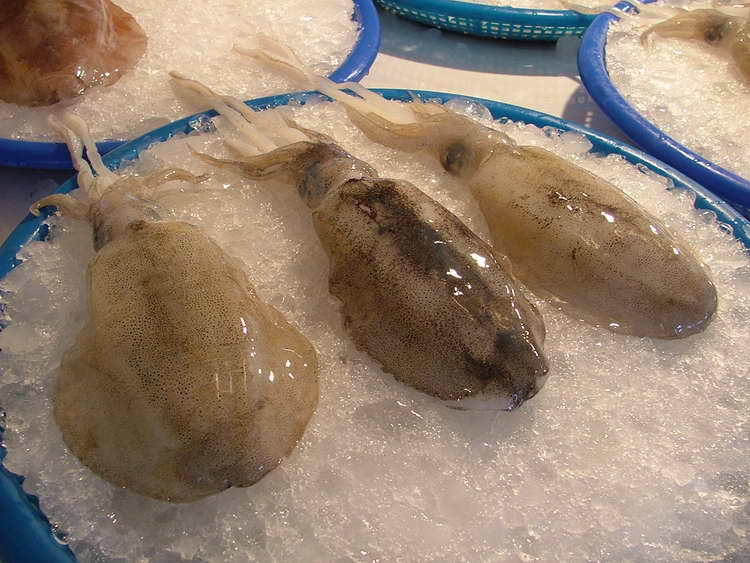 I have to admit, I prefer the way they look when they are fully-cooked.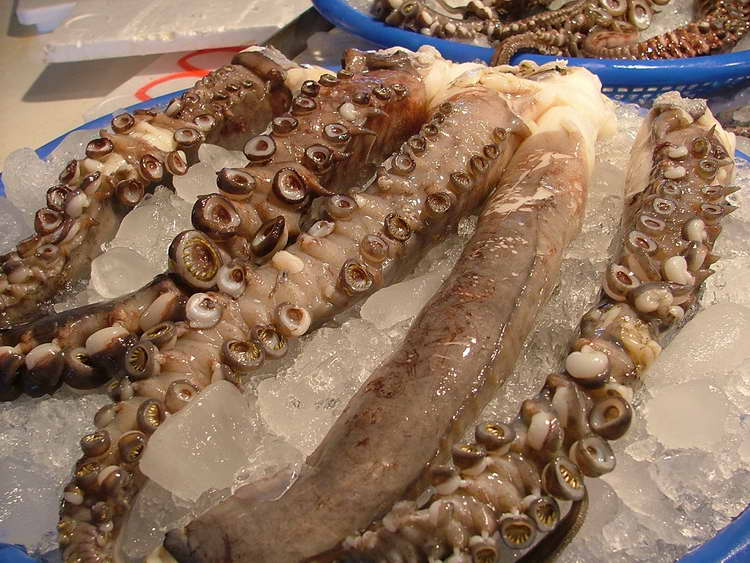 Leftovers from horror movie sets.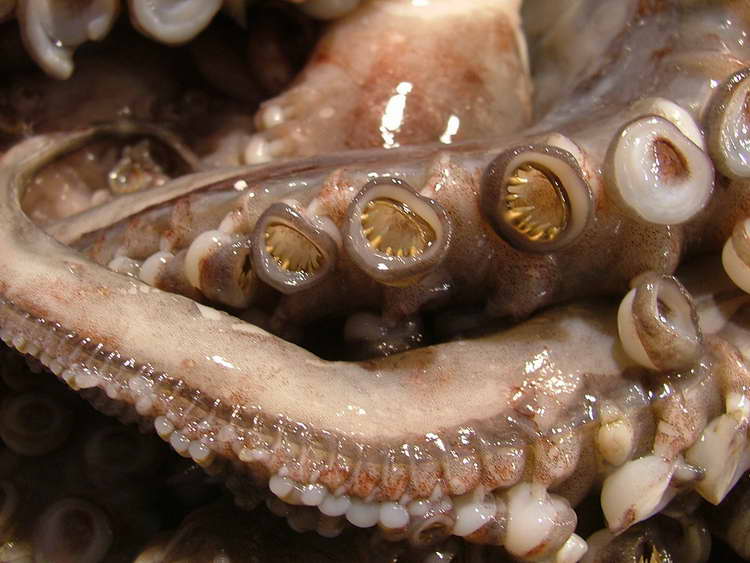 If you look carefully, you can see Kirk Douglas caught in there.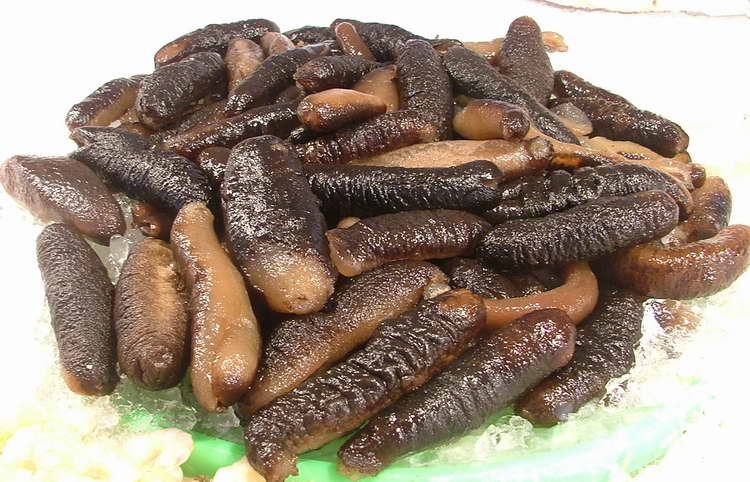 Sea cucumbers, one of the ocean's most delectable treats.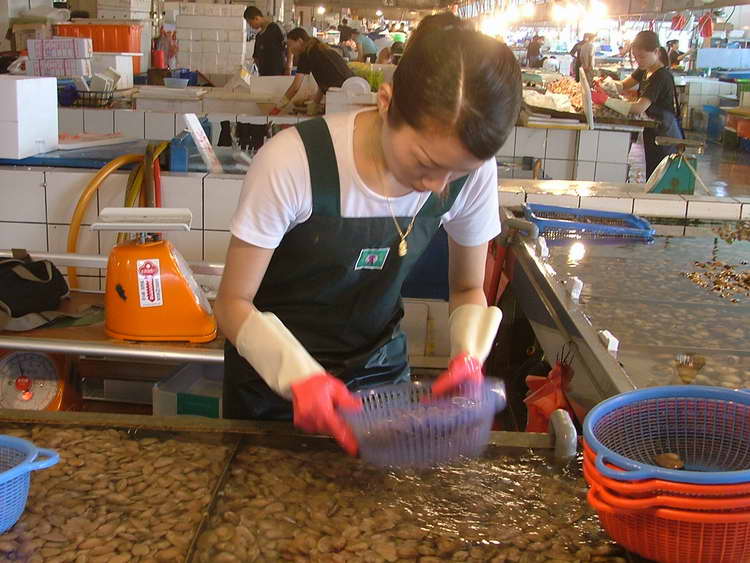 Sorting shellfish.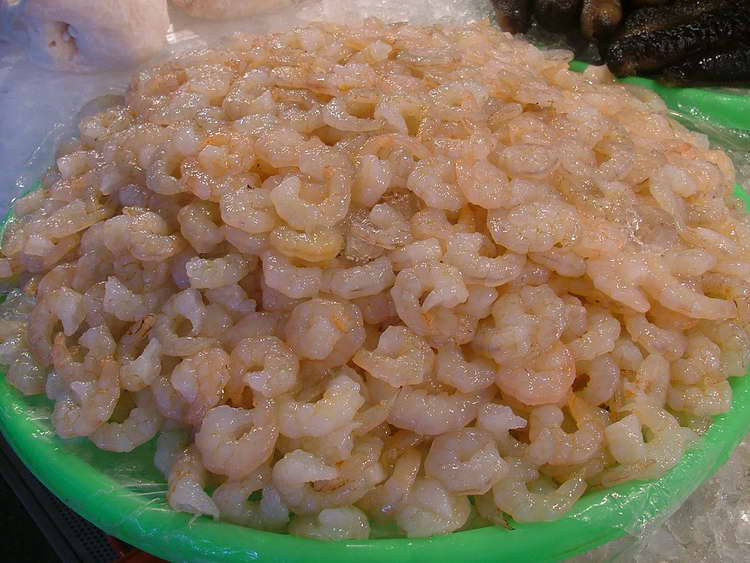 Ready to eat....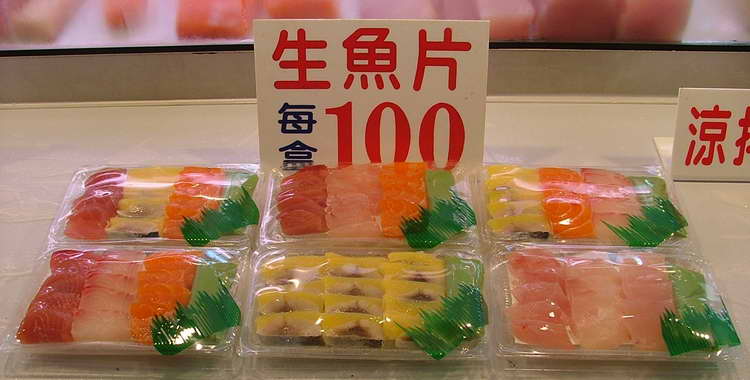 Little slices of heaven.

The dried goods shops are all together at one end.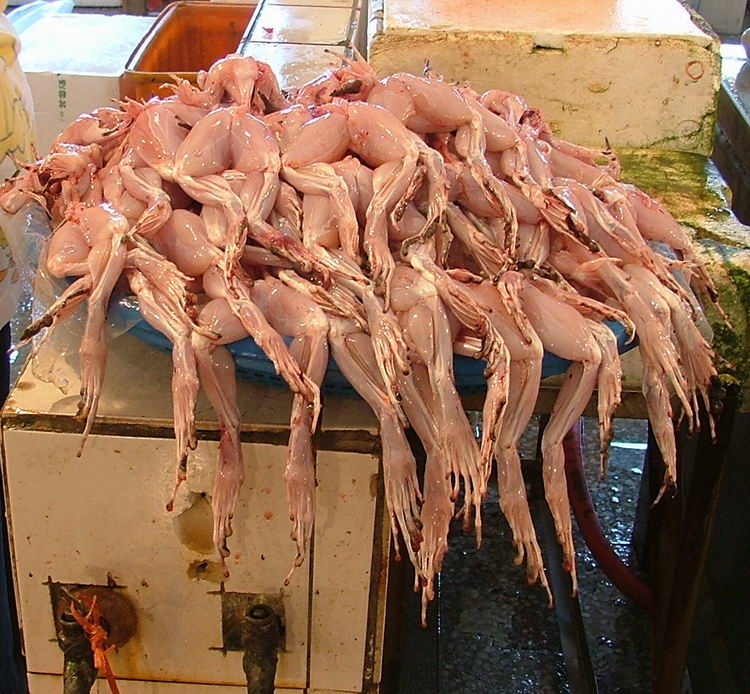 Frogs ready for eager customers.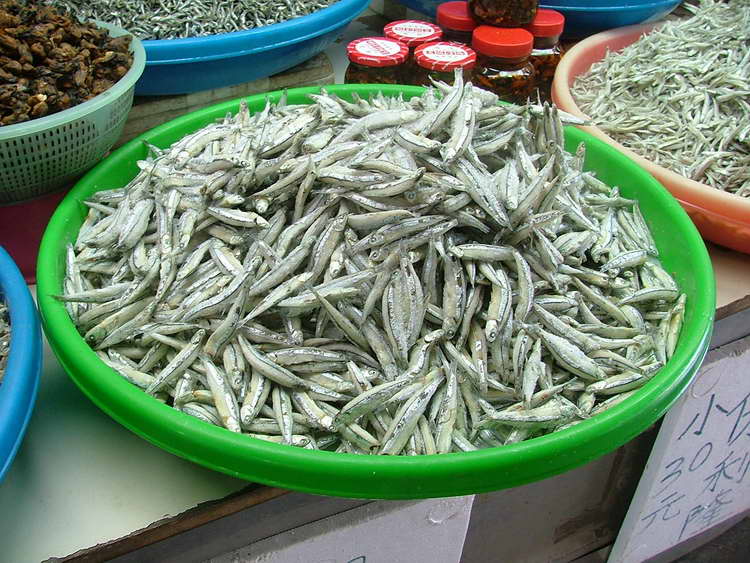 An important condiment, dried fish are sold in every market in Taiwan.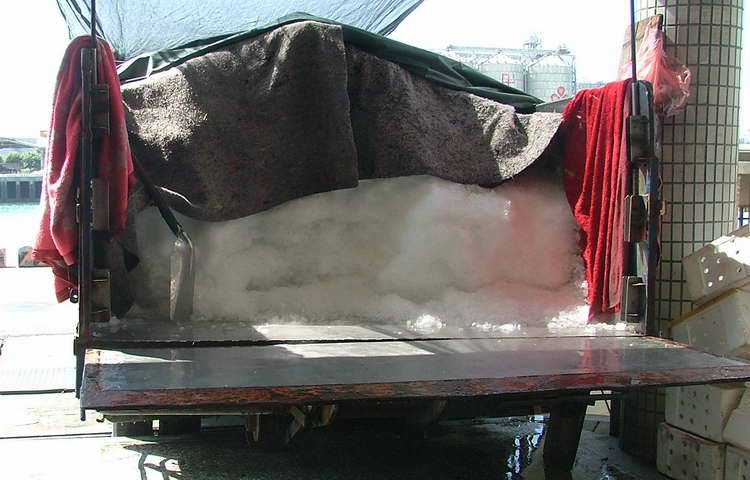 A key ingredient for any fishmonger: ice, trucked in fresh every morning.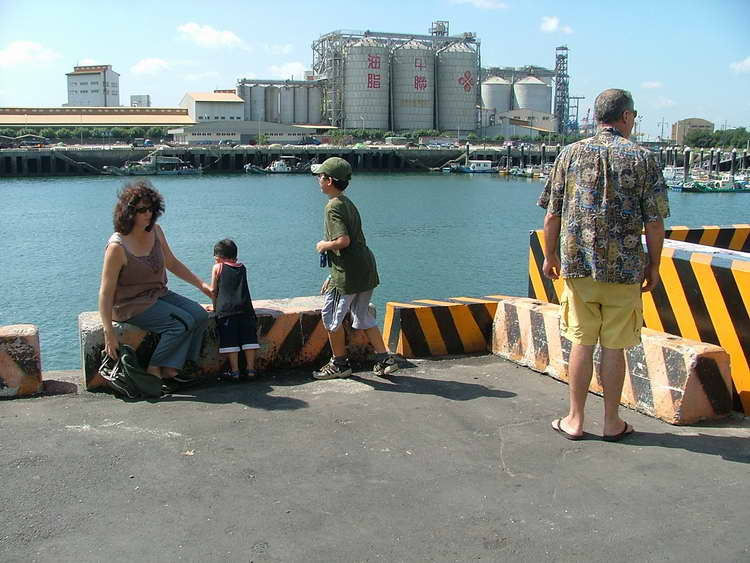 After walking around the market, we went out to view the port.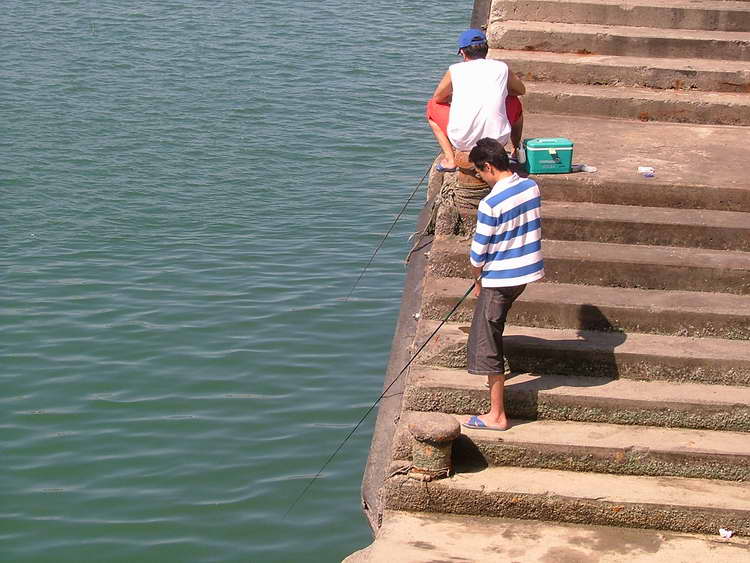 Taiwan: wherever there is water, there are fishermen.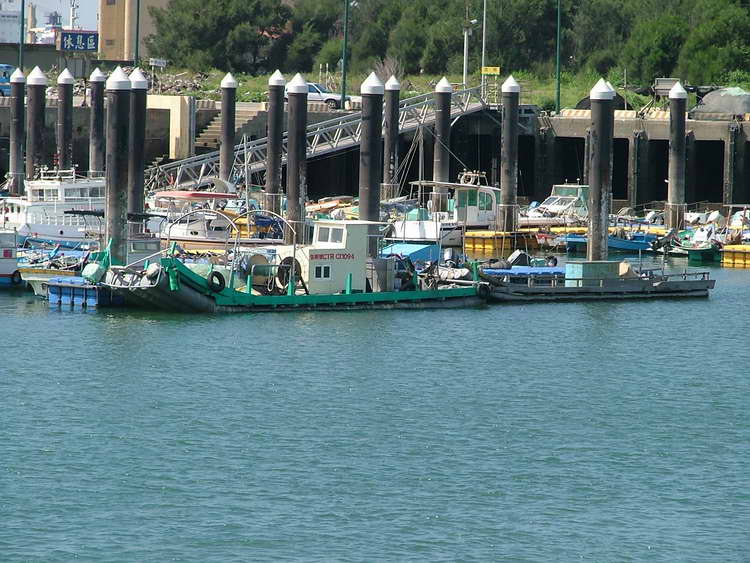 Craft at rest on a Sunday morning.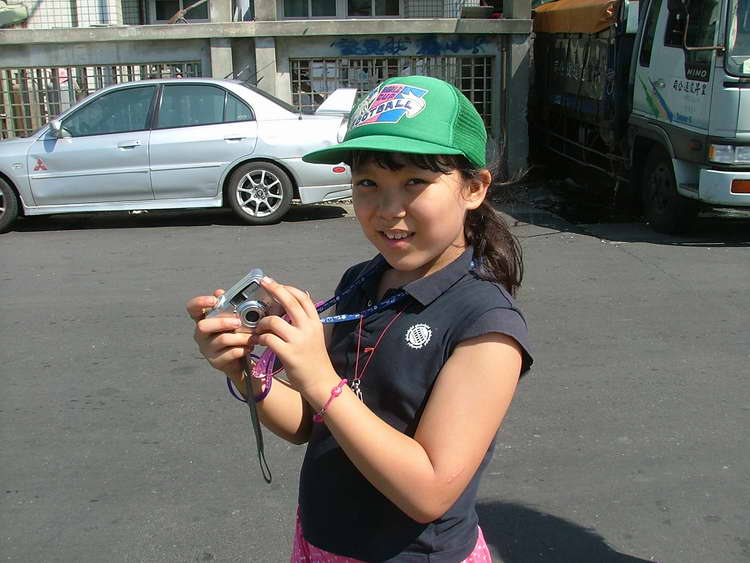 My daughter pauses between pictures.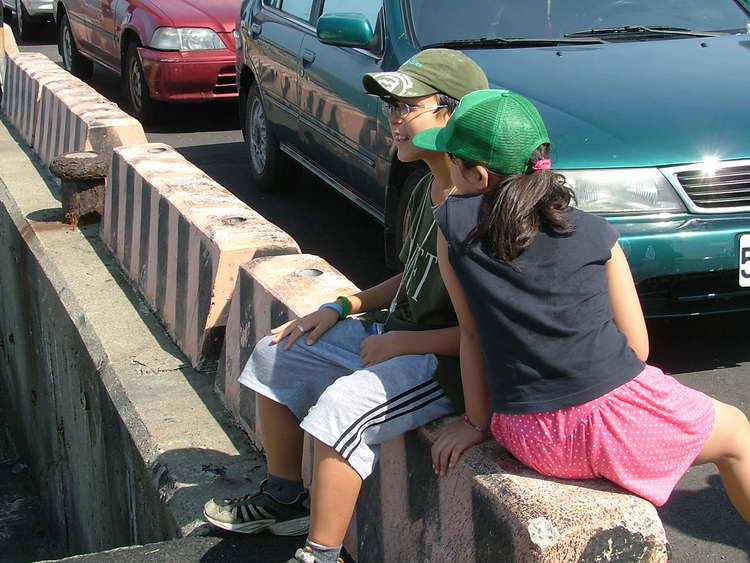 Zeb and Dan-dan discuss hammerheads they have killed.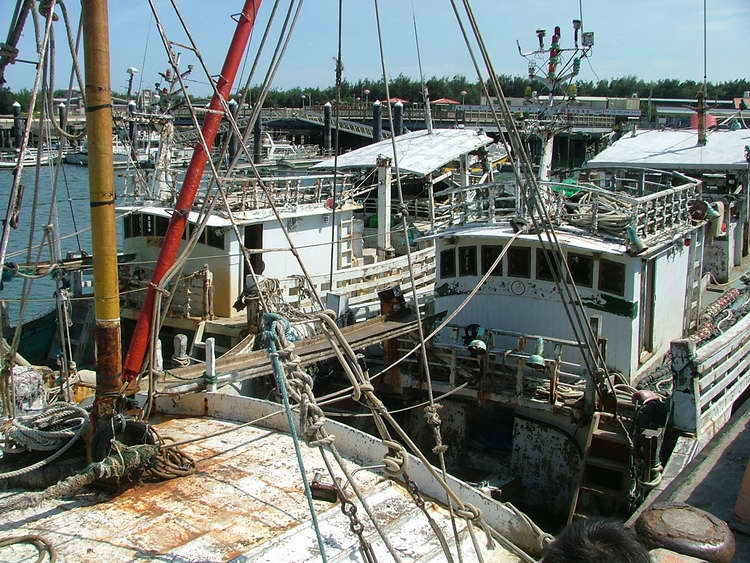 Anyone who goes out to the wild ocean in puny trawlers like this has my deepest respect.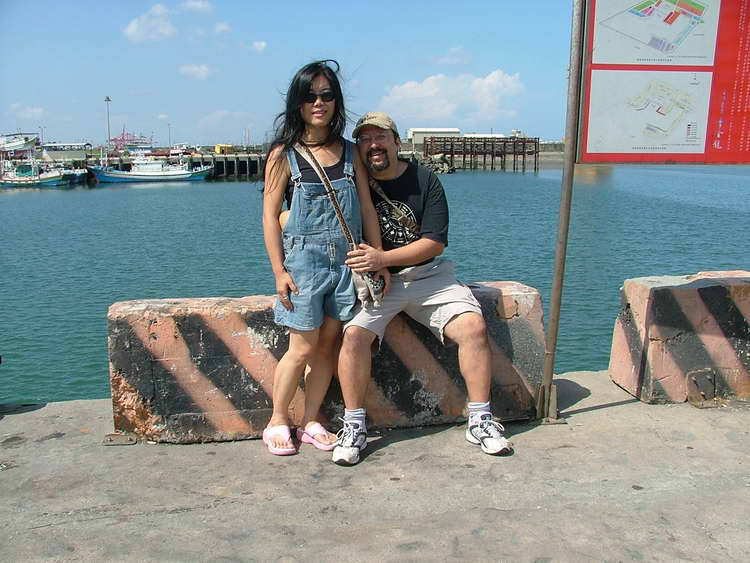 Fifteen years together next year. And we haven't changed a bit.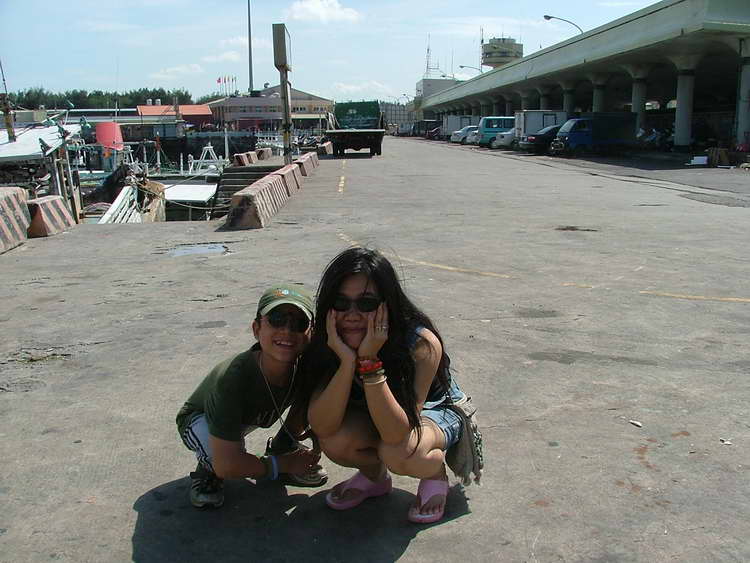 Mom and Zeb share a moment outside the market.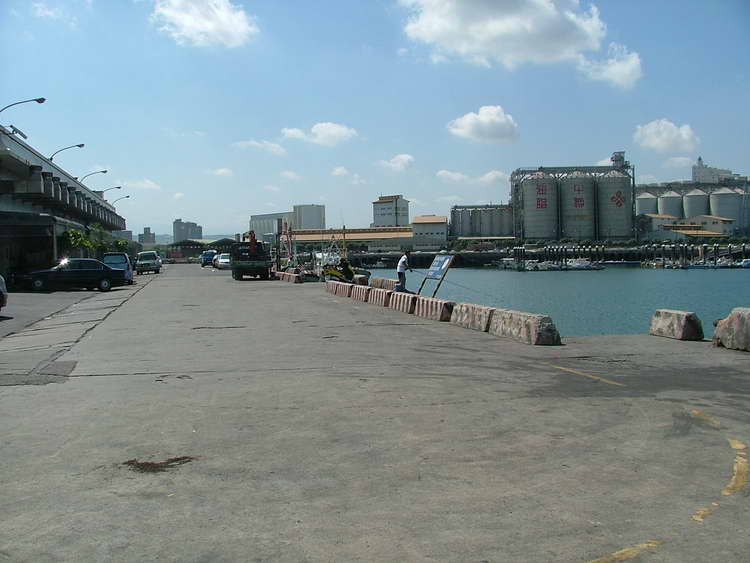 The market facing the harbor storage facilities. The towers on the right are for storage of fats and oils.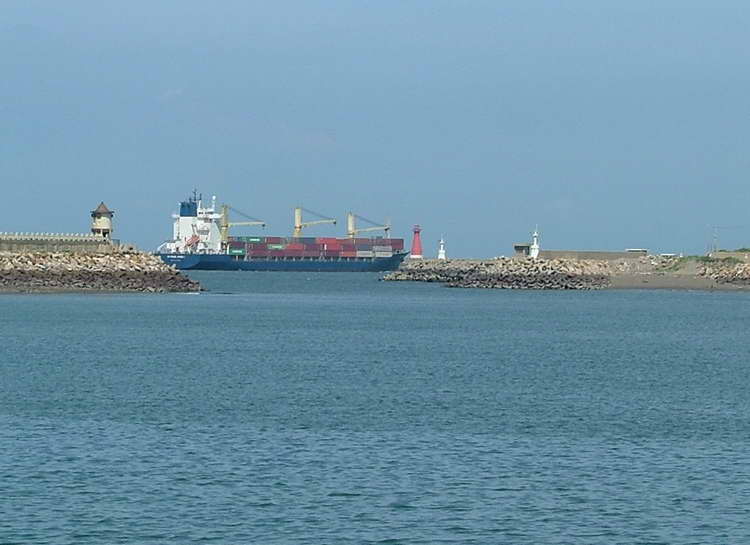 A container ship moves out to sea.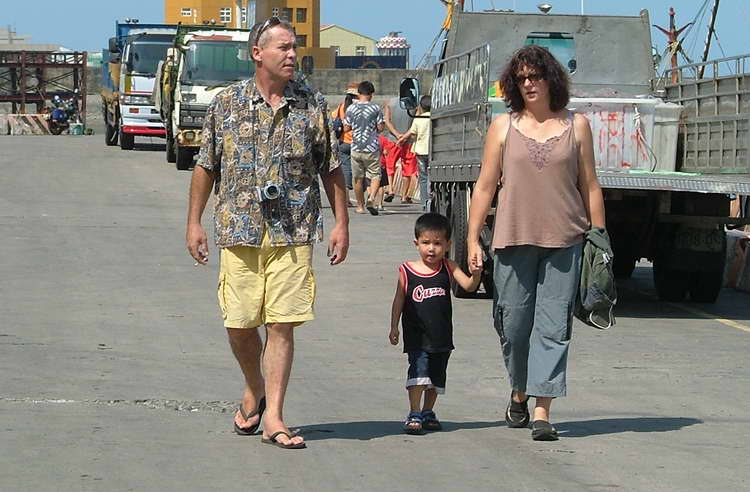 Steve, Josh, and Rhonda take in the sights.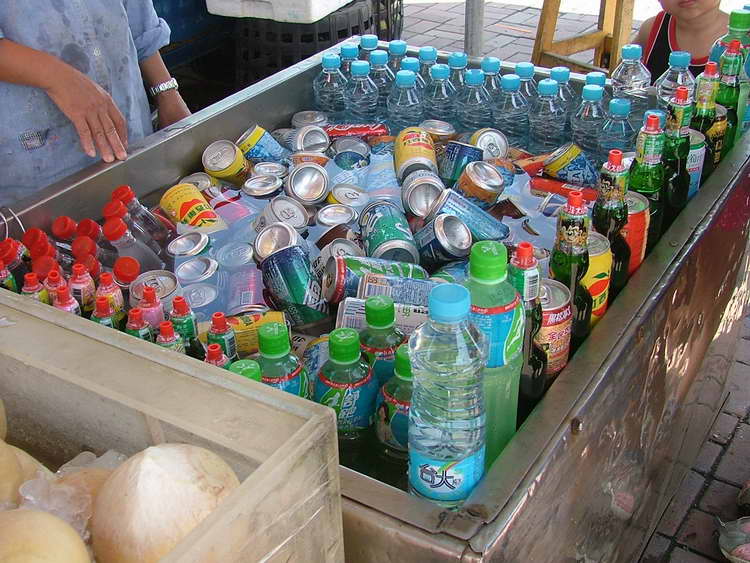 The drinks vendor where we refreshed ourselves in the growing heat.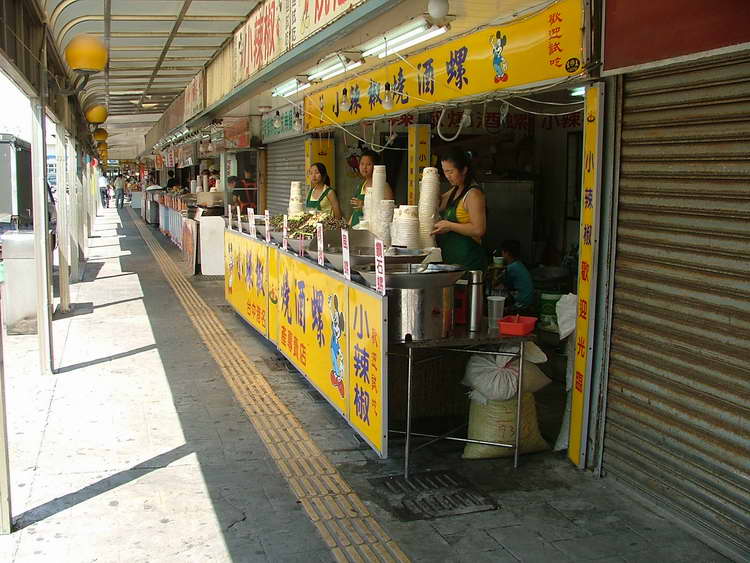 By ten, when we emerged, the vendors had all opened.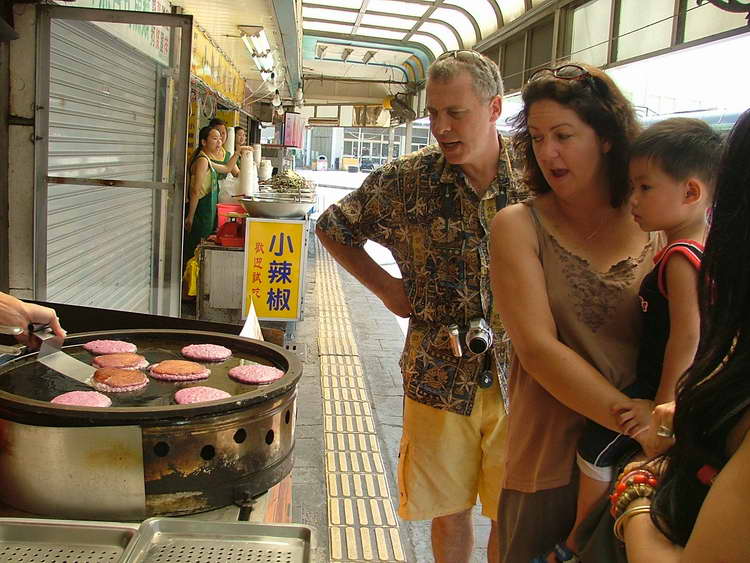 Steve and Rhonda aghast at the taro cake maker's cake flipping technique.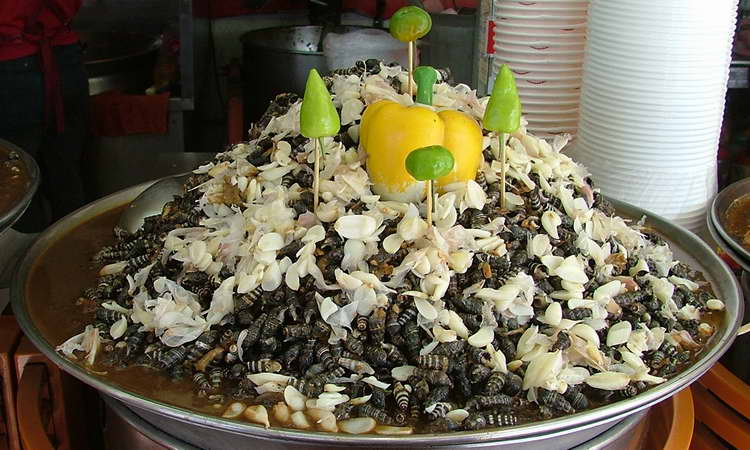 A common snack item in Taiwan.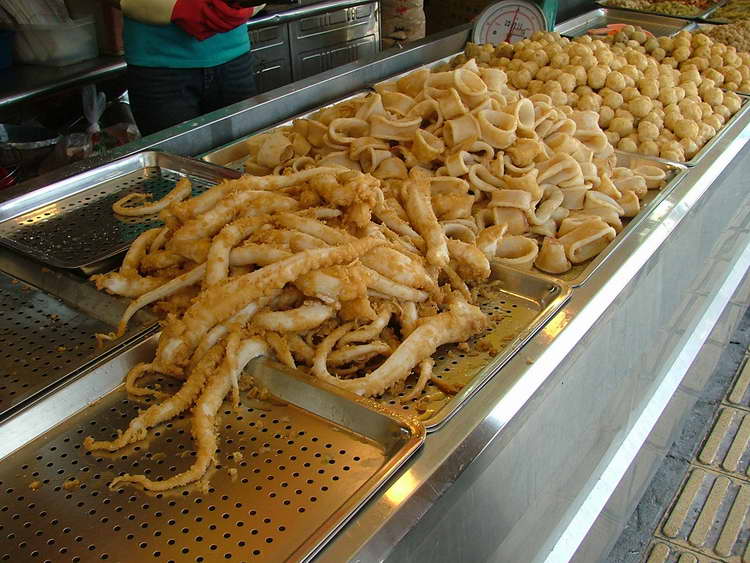 There is nothing so big that it can't be deep-fried.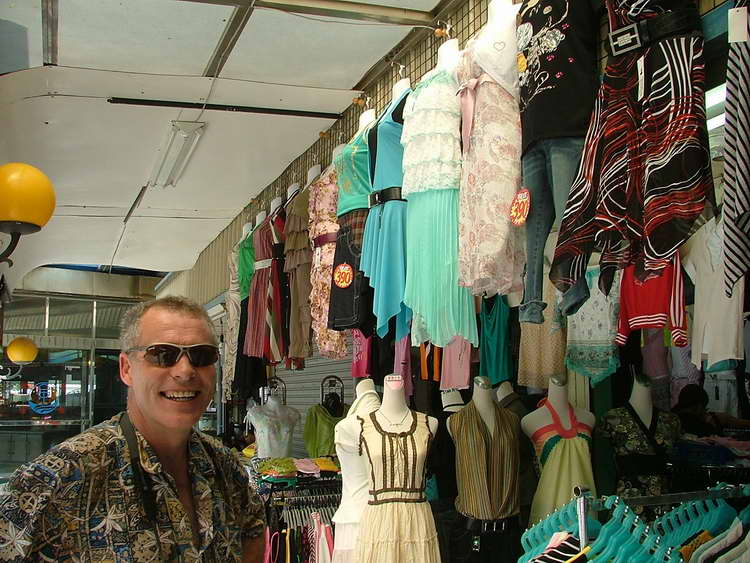 Steve admires the exquisite taste of the owner of this clothing stall.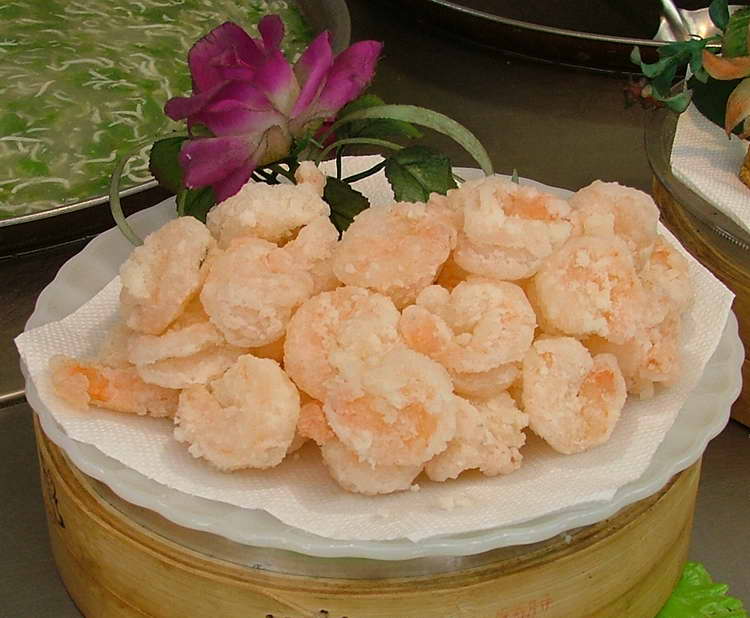 A plate of shrimp, artfully displayed.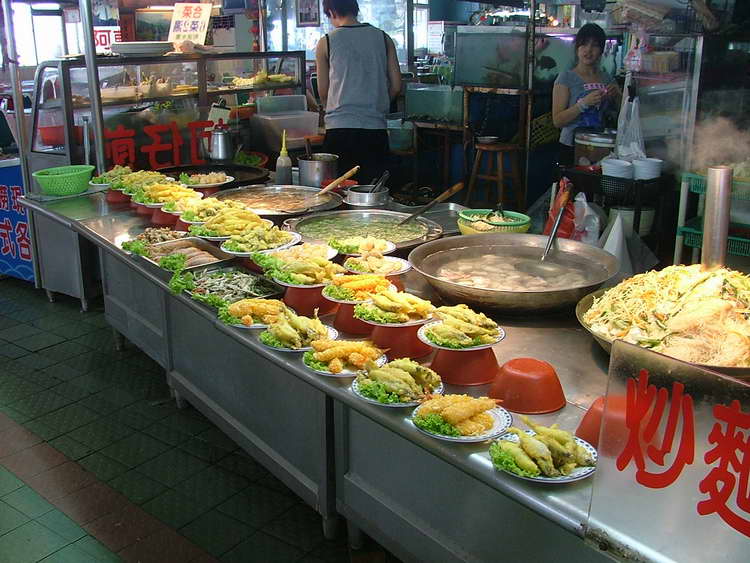 Very effective bait as lunchtime grows nearer.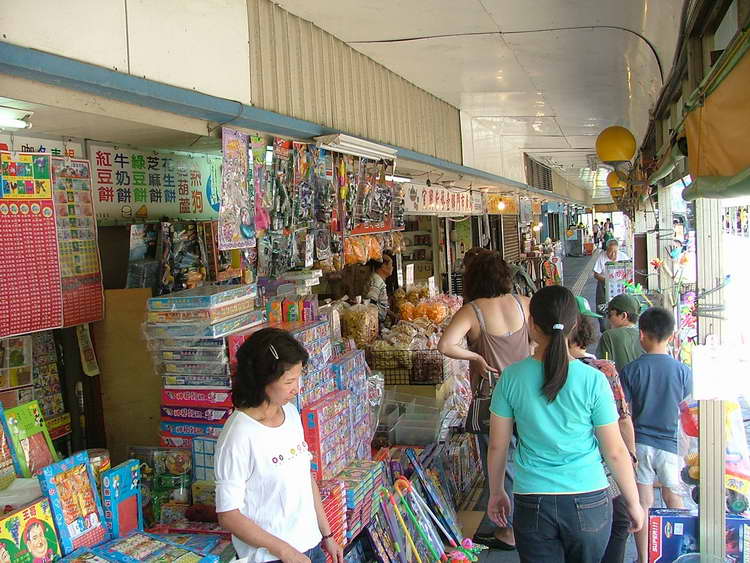 Gravitating inevitably towards the toys.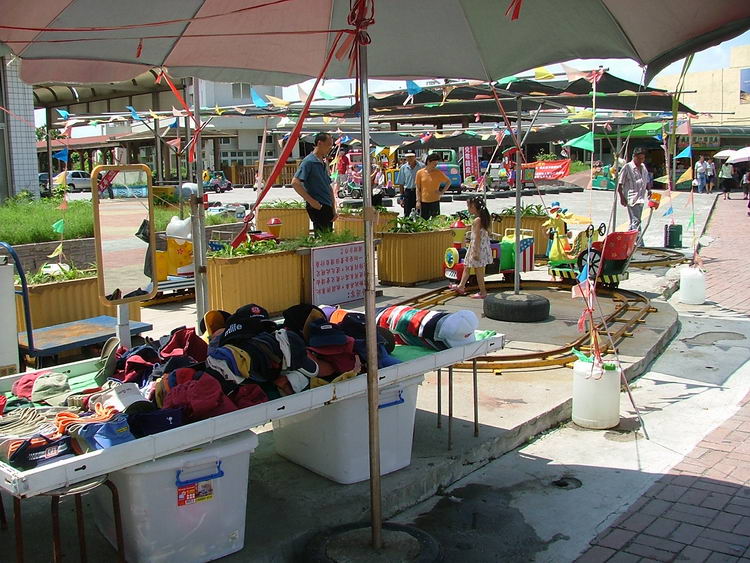 Vendors clog the entrance.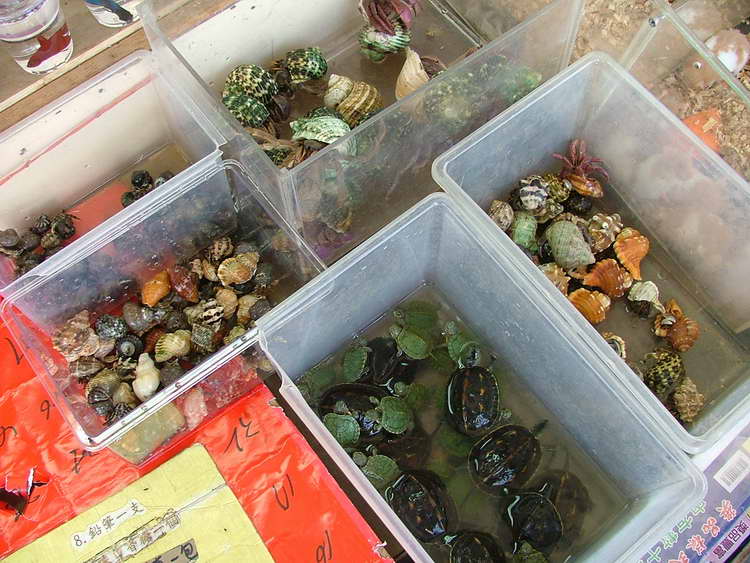 Of course, the great thing about seafood is that if it doesn't sell as an edible you can market it as a pet.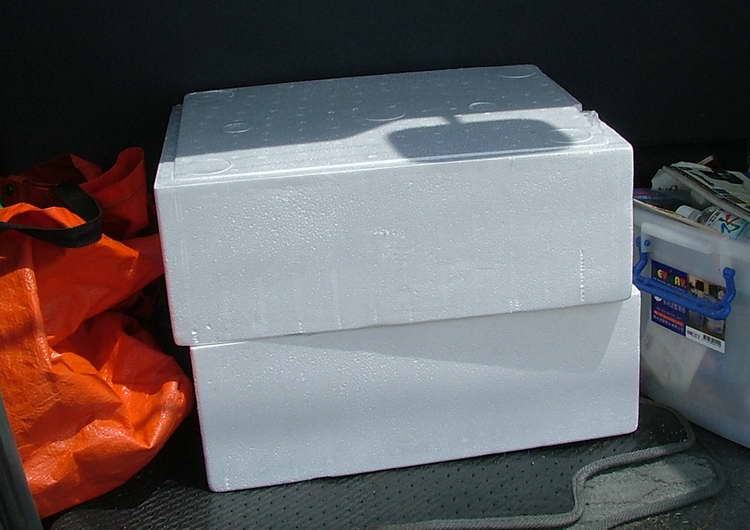 Styrofoam containers cost $50 each, and you can stuff them with ice and your chosen seafood for the long trip home.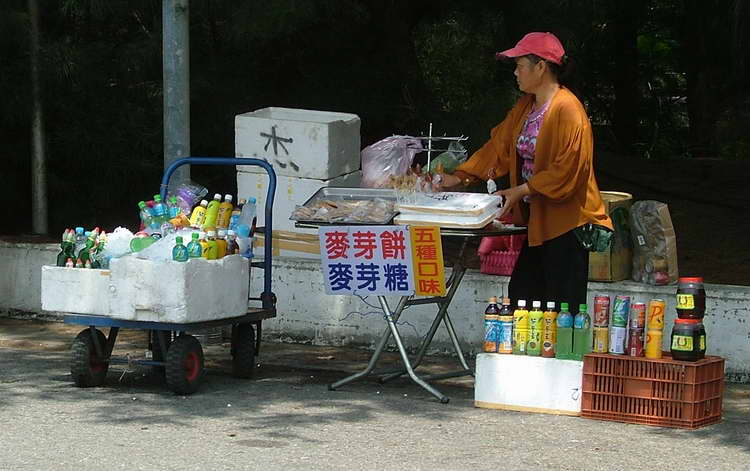 When the first ancestors of the aborigines arrived on the island, the vendors were already there, waiting for them.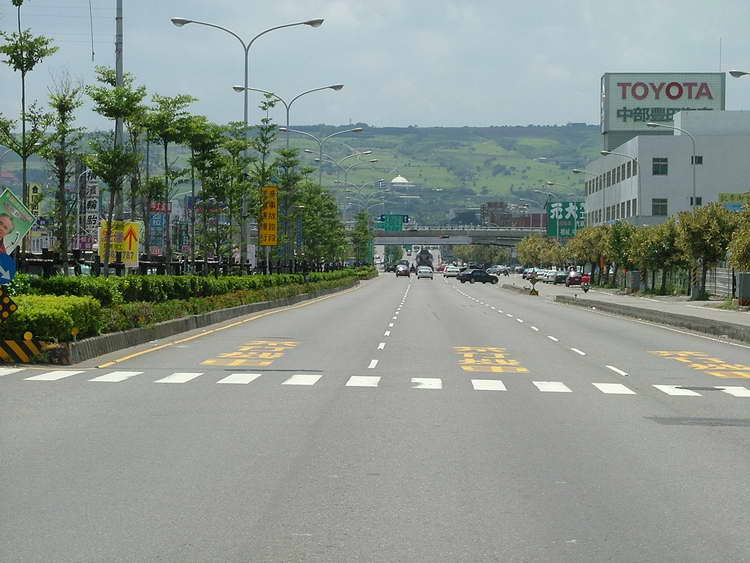 The road home offered spectacular views of Tatu Mountain, between the port and Taichung.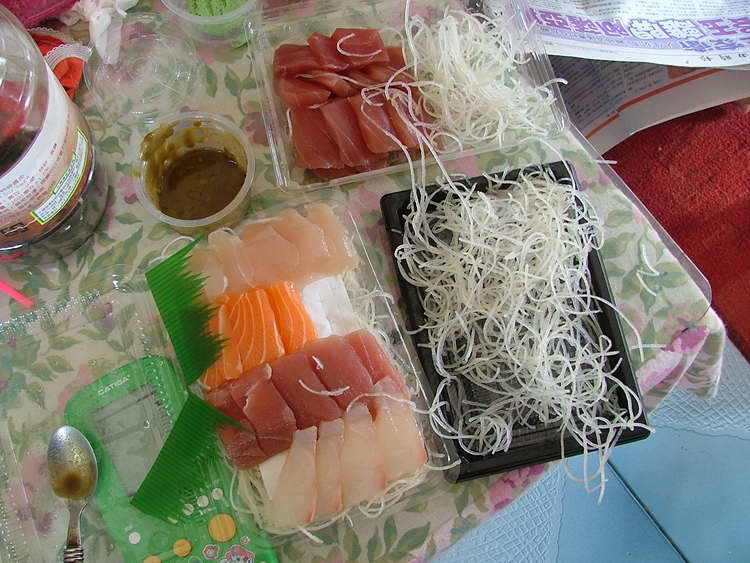 Our reward for a morning well spent...fresh sashimi, right off the docks!