The Earthquake Museum in Wufeng
On a gorgeous fall day in late October we ventured to the 9/21 Earthquake Museum in Wufeng. The museum is built on the ruins of a junior high school that had the singular bad luck to sit right across the fault slip. The vertical displacement at the school was between 2.5 and 3 meters (in some parts of the mountains it was over 10 meters). At the moment the museum is under construction. It is a beautiful museum whose design has won awards, and is well worth the trip to Wufeng.

Back to Recreation in Taiwan
back to Teaching English in Taiwan Home Page
My wife, her sister, my kids, and my niece dodge the accouterments of construction to pose in front of the sign.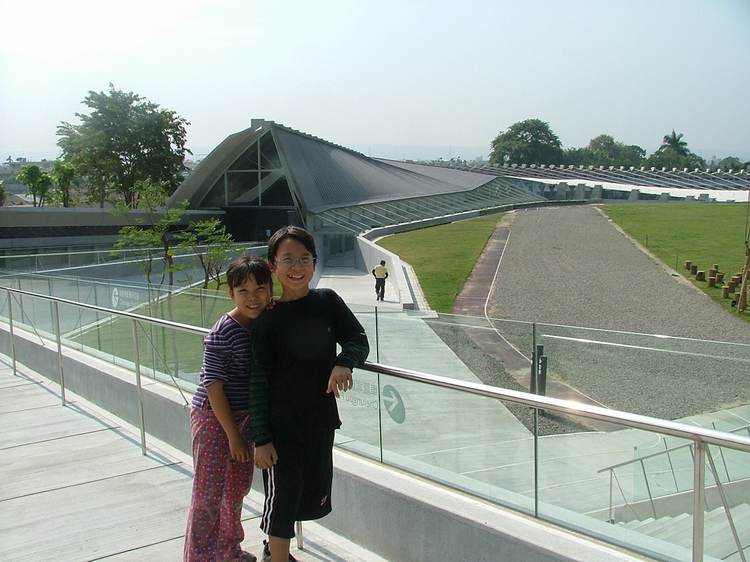 Sebastian and Sheridan pose in front of the museum. The old track of the junior high is to the right, the entrance down the concrete ramp to the left.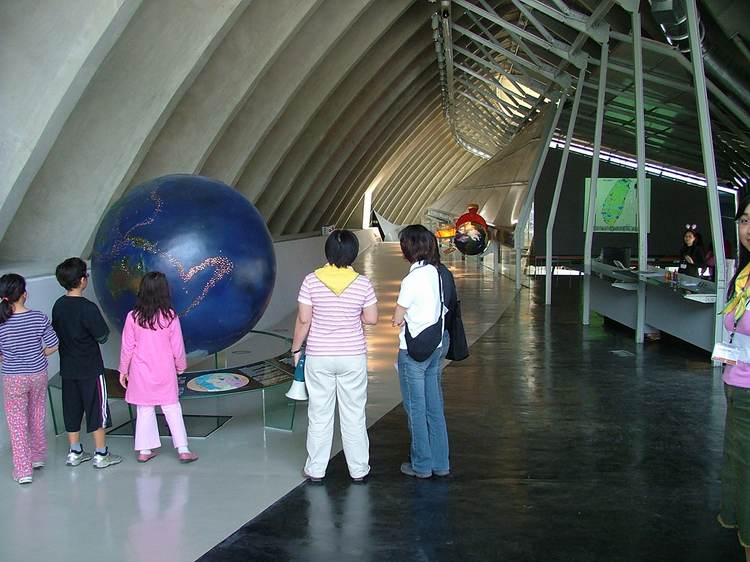 Studying a globe showing the plate boundaries. Taiwan's small museums are often of very high quality.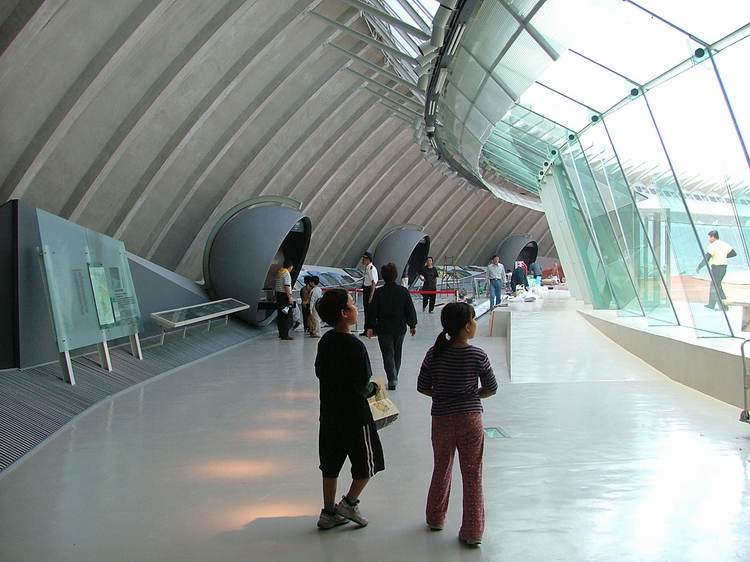 The museum is well-lit and the exhibits are professionally done, with English explanations of decent quality, though obviously not written by native speakers. The architecture is particularly striking and attractive.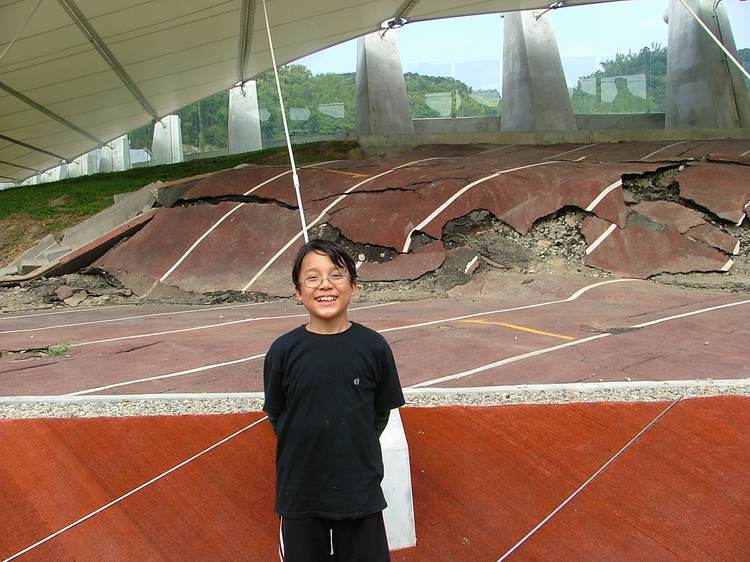 Zeb poses in front of the old track. The vertical displacement, about 2.5 meters worth, is dramatically depicted by the sudden rise in the track.
Some of the old school buildings have been retained on the site as part of the exhibit. Walking paths take you through them to a second museum building at the other end of the school site.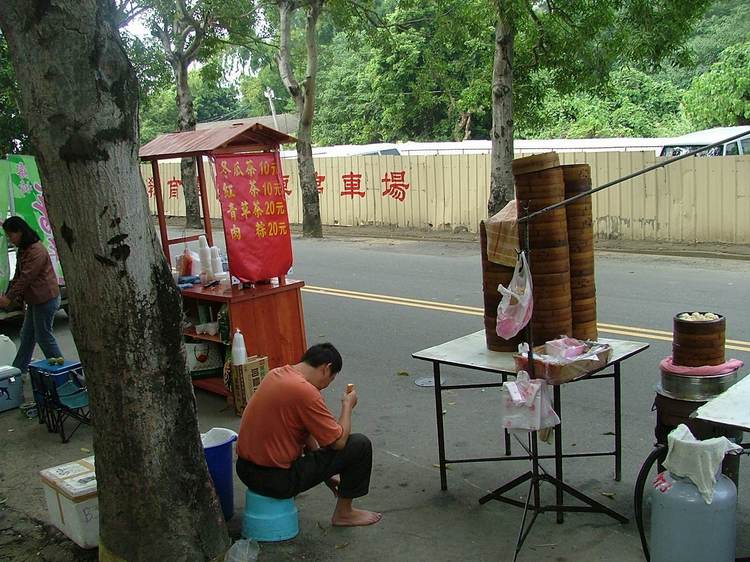 The road outside the museum is lined with vendors of every type and kind.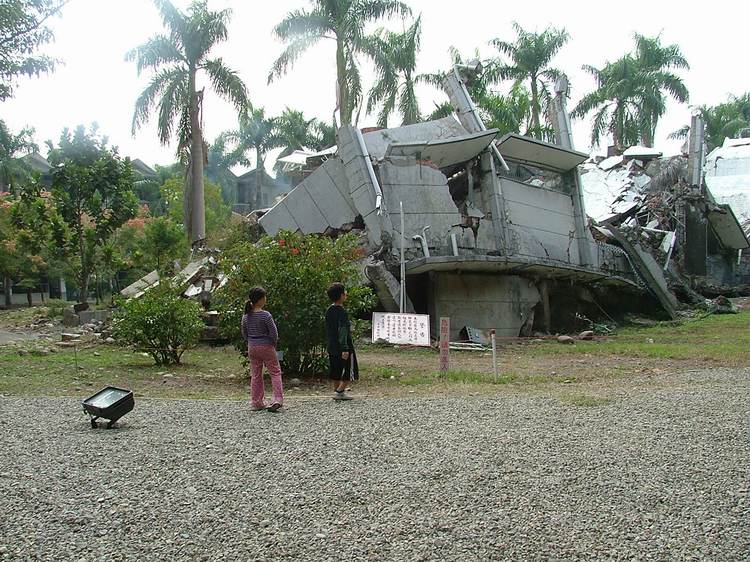 Dan-dan and Zeb are shocked and awed by the destruction. The ground was displaced right under the school, this wing rising almost three meters. Luckily the quake struck at 2 AM, or the death toll might have been much higher.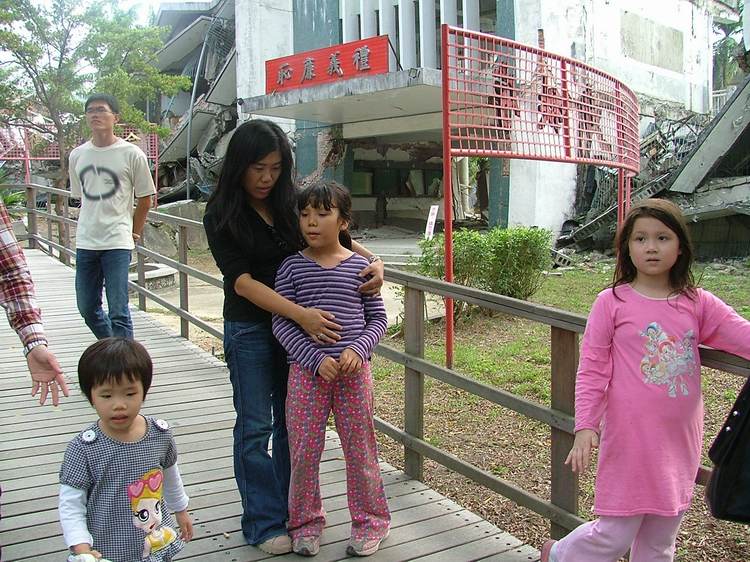 Mom comforts Sheridan on one of the beautiful walkways.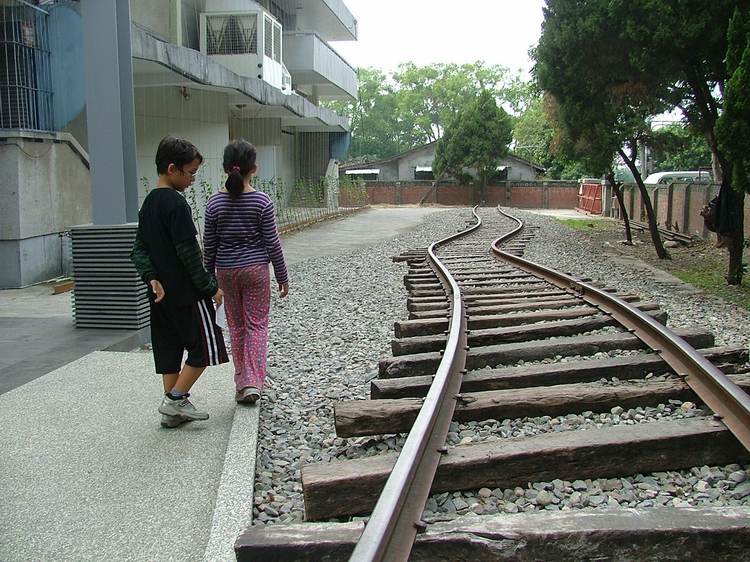 Twisted rail tracks: no self-respecting quake should be without 'em!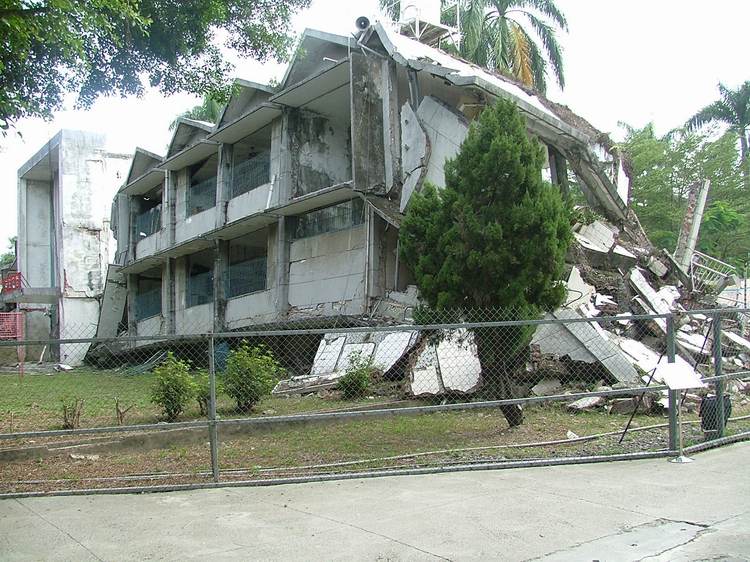 The casual power of quakes is fearsome to behold.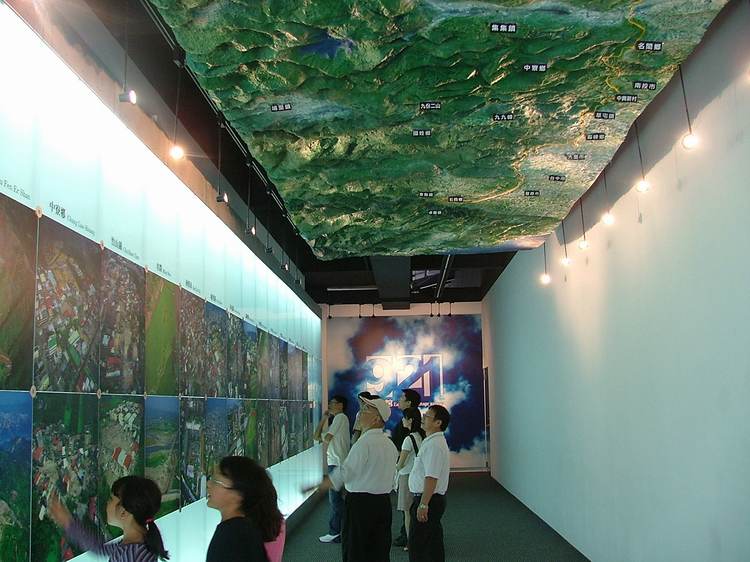 The walkway takes you to the second museum building. This is an image and video repository. While there is little in English, the pictures are wonderful.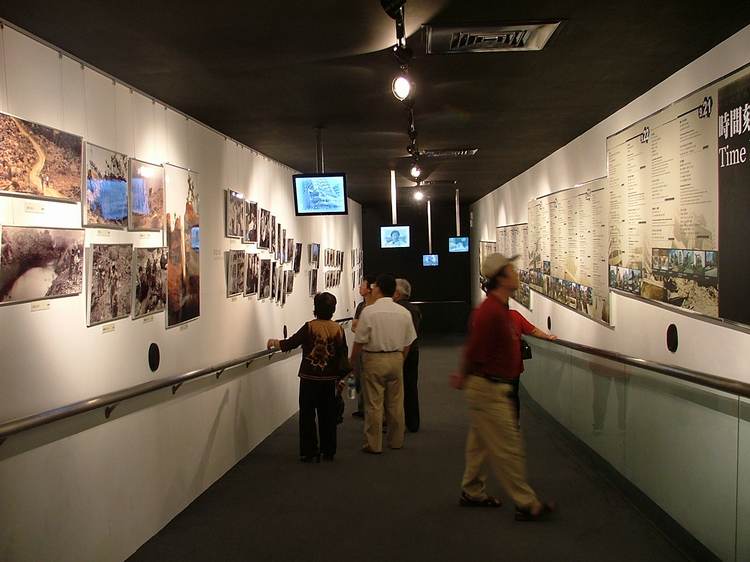 Visitors inspect the displays.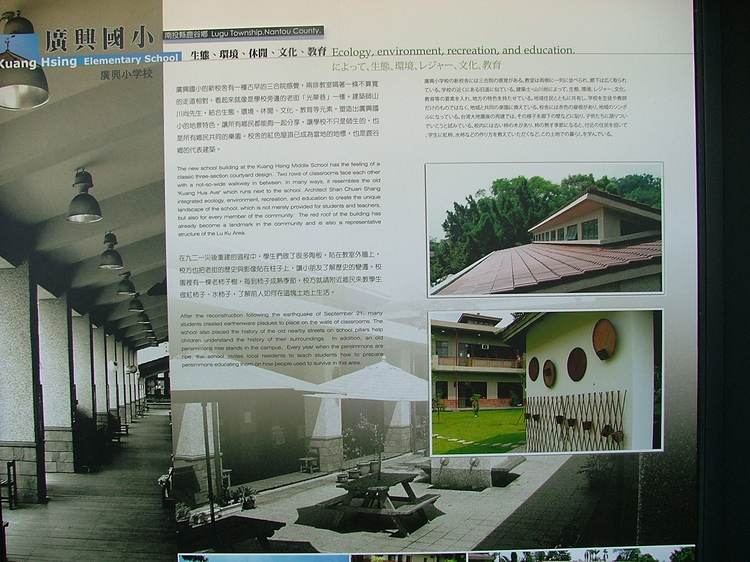 A display describes new school construction. Relatively more schools than other buildings were destroyed by the quake, but that sad fact did not seem to stimulate any closer investigation into the state of public construction on the island.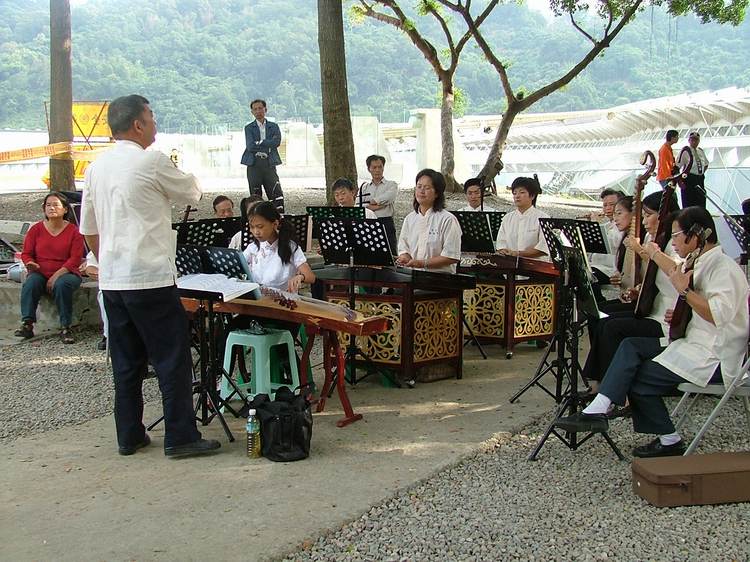 The museum also hosts outdoor concerts and other activities on the weekends.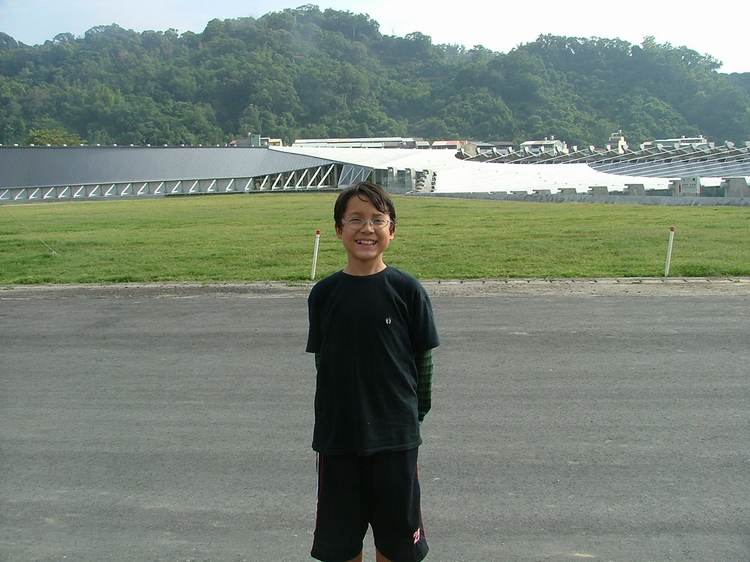 Zeb poses in back of the museum as we make our way back to the car.
Back to Recreation in Taiwan
back to Teaching English in Taiwan Home Page
Teaching English in Taiwan:
Living in Taiwan: